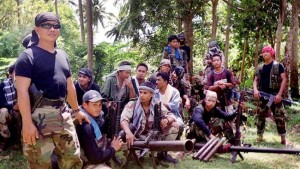 Abductions of crew by terrorists in the southern Philippines remain the top concern for Asian anti-piracy body ReCAAP, despite a lull in incidents since May.
Philippines Islamic militant group Abu Sayaaf turned to kidnapping ship's crews for ransom in the Sulu and Celebes Seas in the south of the country.
Releasing its half-year report ReCAAP Information Sharing Centre (ISC) said that there had been a total of seven attacks in the area in the first half of this year with three successful abduction attempts, and four unsuccessful attempts. All the attacks were recorded in the first four months of 2017, with no actual or attempted abductions since May.
"Since May there have been no cases of armed abduction of crew so maybe the situation is improving, but it is still very much a concern," Masafumi Kuroki, executive director of ReCAAP, told a press briefing in Singapore on Tuesday.
"Although since May we haven't had any incidents of abduction of crew we do not yet think the situation is stable in that region and keep our advice to ships to re-route if possible," he added.
Attacks on merchant ships to abduct crew for ransom in the southern Philippines, claimed largely by Abu Sayaaf, started in March last year with 59 seafarers abducted from 13 vessels in the region. To date 28 have been released, 11 rescued and four killed, with 16 remaining in captivity. Although there have been no new abductions since May this year two weeks ago saw the beheading of two captives.
Kuroki was unable to say if ransoms had been paid in the cases where seafarers had been rescued.
In response to the attacks trilateral patrols have been launched by the Philippines, Malaysia and Indonesia and a recommended transit corridor established for merchant shipping between Moro Gulf and Basilan Strait. A second corridor has been proposed for the Sibutu Passage.
ReCAAP retains its warning issued in November last year for ships to avoid the region if possible, a warning that has been repeated by the governments of the US, Japan and Denmark among others.
While ReCAAP does not have figures for ships choosing to avoid the region Kuroki said that he was, "informed that some shipping companies are avoiding this area and are taking other routes although it may take more days and additional cost".
"But I think some shipping companies still use this area."
Mindanao province in the south of the Philippines is currently under martial law due to Islamic militancy, and President Rodrigo Duterte is seeking to extend martial law till the end of the year.
Martial law was declared on 23 May after the Maute and Abu Sayyaf groups inspired by Islamic State took over parts of Marawi City.   
Copyright Ships & Ports Ltd. Permission to use quotations from this article is granted subject to appropriate credit given to www.shipsandports.com.ng as the source.