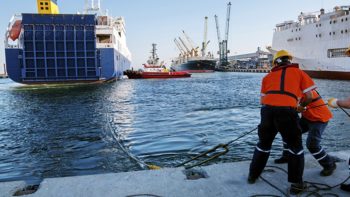 Seafarers will have better protection under mandatory insurance rules that took effect on Tuesday, which require ship owners to have compulsory insurance to cover abandonment of seafarers as well as claims for death or long-term disability.
International Maritime Organization (IMO) Secretary General Kitack Lim in a statement welcomed the new obligations under the Maritime Labor Convention (MLC 2006), saying that these will improve working conditions for seafarers.
"These amendments, which will provide better protection for seafarers and their families, are the fruit of successful collaboration between IMO and ILO to ensure better working conditions and better protection should things go wrong. I am very pleased to see these amendments enter into force today (January 17) for the Parties to MLC 2006, all of which are also IMO Member States," Lim said.
The 2014 amendments to the MLC 2006 are under the auspices of the International Labor Organization (ILO) and are based on guidelines developed by a joint IMO/ILO working group reporting to both IMO's Legal Committee and ILO's governing bodies, the IMO explained in background information provided on the organization's website.
The new rules require that the insurance provider of the ship owner must issue a certificate or other documentary evidence of financial security. This certificate has to be carried on board the ship.
Lim added, "Seafarers make global trade possible and it is vital that we all work together to ensure their rights are protected. It has often been said that the MLC 2006 represents the fourth pillar when it comes to the most important maritime treaties as it complements the IMO treaties covering safety—the SOLAS treaty, pollution prevention—the MARPOL treaty and training of seafarers—the STCW treaty."
The amendments took nearly a decade to develop through a Joint IMO/ILO Ad Hoc Expert Working Group on Liability and Compensation regarding Claims for Death, Personal Injury and Abandonment of Seafarers.
The IMO explained that its Legal Committee maintains a standing agenda item to continually review the provision of financial security in case of abandonment of seafarers, and ship owners' responsibilities in respect of contractual claims for personal injury to or death of seafarers.
Copyright Ships & Ports Ltd. Permission to use quotations from this article is granted subject to appropriate credit given to www.shipsandports.com.ng as the source.