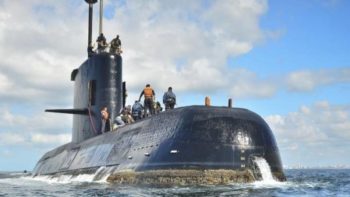 By Jite Eriabie 
The search for an Argentine navy submarine missing in the South Atlantic for one week reached a "critical phase" on Wednesday as the 44 crew on board could be running low on oxygen, a navy spokesman said.
Dozens of planes and boats were searching for the ARA San Juan. Favourable weather meant boats could cover a greater area after being hampered by strong winds and high waves for much of the past few days, although poor weather was expected to return on Thursday, navy spokesman Enrique Balbi said.
If the German-built submarine had sunk or was otherwise unable to rise to the surface since it gave its last location on Nov. 15, it would be using up the last of its seven-day oxygen supply.
"We are in the critical phase…particularly with respect to oxygen," Balbi told reporters. "There has been no contact with anything that could be the San Juan submarine."
Around 30 boats and planes and 4,000 people from Argentina, the United States, Britain, Chile and Brazil have joined the search for the submarine, which last transmitted its location about 300 miles (480 km) from the coast.
Planes have covered some 500,000 square kilometers (190,000 square miles) of the ocean surface, but much of the area has not yet been scoured by the boats.
Several possible signals, including sounds and flares, that have been detected have turned out to be false alarms. Overnight, a British ship reported observing three orange and white flares, but they did not come from the vessel, Balbi said.
The submarine was launched in 1983 and underwent maintenance in 2008 in Argentina. It was en route from Ushuaia, the southernmost city in the world, to the coastal city of Mar del Plata, some 250 miles (400 km) south of Buenos Aires, when it reported an electrical malfunction shortly before disappearing last week.
Relatives of the crew members have been gathered at a naval base in Mar del Plata, where the search is being coordinated.
"We came today because we had hope that they had returned," Elena Alfaro, the sister of crew member and radar expert Cristian Ibanez, told Reuters, in tears. "It is incomprehensible that so much time has passed. We are in pain."  
Copyright Ships & Ports Ltd. Permission to use quotations from this article is granted subject to appropriate credit given to www.shipsandports.com.ng as the source.