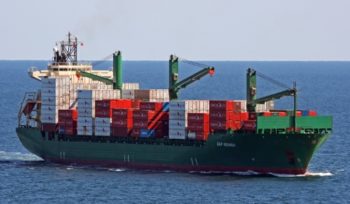 A lack of orders for smaller containerships over the past few years, with operators focused on large vessels, is attracting new investors into the secondhand market.
Hamburg-based asset and investment manager MPC Capital said it had already raised $100m in equity to acquire a fleet of feeder (1,000-2,000 teu) and feedermax (2,000-3,000 teu) vessels this year.
A new company, MPC Container Ships, has been formed and group subsidiaries Ahrenkiel Steamship and Contchart will provide technical and commercial management services.
MPC said that, "based on the current pipeline exceeding 100 vessels, capital proceeds are expected to be fully deployed within 2017", adding that "an initial fleet of attractive assets has already been secured".
It said its rationale for the investment in feeder ships is the expected container market recovery this year, as well as the dearth of smaller newbuild ships being delivered.
MPC said: "[The] first signs of a recovery are now seen in the container shipping market, with freight rates above 2016 levels and charter rates trending up in the first quarter of 2017."
Moreover, it noted, analyst Maritime Strategies International (MSI) was projecting a "market-wide recovery" and had highlighted that supply and demand in the smaller sectors was "particularly favourable".
MPC agreed that overcapacity in the container market – too many ultra-large container vessels causing a cascade of bigger ships into secondary trades – had resulted in "an historic downturn in charter rates and asset values".
However, the smallest vessel sizes had not been as badly hit by the cascading, and MPC said it shared the view that the vessels represented "attractive investment opportunities".
Indeed, according to data extracted from the Harpex Shipping Index, hire rates for a typical 1,100 teu gearless vessel remain at $6,000 per day and above when bigger-class panamax ships of 3,000-5,000 teu saw their daily hire rates tank below $4,000 at the end of 2016. As a result, the asset values of smaller ships has been much more robust.
For example, according to vesselsvalue.com data, the 1,096 teu Peter Dohle-managed 2003-built Contship Pro has a current valuation of $3.83m – higher than its scrap value of $2.08m. In contrast, an eight-year-old panamax ship was sold for scrap this year by its embattled owners, while in the feeder sector the average age of half of the ships is 15 years.
Given that a ballpark figure for a newbuild 1,100 teu feeder ship could be around $20m, the attraction for investors in picking up vessels for a fraction of this cost, that can be chartered at upwards of $6,000 a day and where asset values are insulated by an absence of new ships, is clear.
Soruce: Loadstar  
Copyright Ships & Ports Ltd. Permission to use quotations from this article is granted subject to appropriate credit given to www.shipsandports.com.ng as the source.