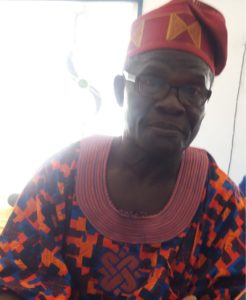 Chief Remi Ogungbemi started his career as a motorboy more than 50 years ago. Today, he is a proud truck owner and has risen to the rung of the ladder of his industry. As Chairman of the Association of Maritime Truck Owners (AMATO), Ogungbemi has been in the forefront of drawing government's attention to the various challenges confronting truck operators and truck drivers, especially those plying the nation's seaports. In this interview with Oluwatoyin Amao, he speaks on the plight of his members and how security and road safety officials extort money from them at will. 
Recently, Nigerian Ports Authority (NPA) gave a directive that trucks must be of certain standards before to operate in the ports. What is the compliance level by your members? 
Without being told, it is our wish that trucks should be of high standard and be able to lift goods. However, we are falling short of the standard because all the policies are not helping us to meet up the standard. If you want your vehicle to be of standard, that is, the tyre, body and other components of the vehicle, it is money that will be used to maintain it to standard. But when the money is taken away by different government agencies, how will the trucks be maintained to standard? Everything needed to fix the trucks is done with money. Meanwhile, the volume of goods that are coming into the country has reduced by 70% because the port is no longer what it used to be. We want our trucks to be of standard but the money to use for maintenance is not forthcoming. Nevertheless, I want to commend the Governor of Lagos State because he has been able to curtail the excesses of some traffic regulators. Before now, if a truck breaks down within Lagos metropolis, it would be towed and huge amount of money between N150,000 and N200,000 would be slammed on the driver depending on the mood of the billing officer. But the Governor has been able to stop this act. On our part, we are also working on how not to abuse such a privilege that might change the mind of the Governor. But now, the Federal Road Safety Corps (FRSC) is charging our members exorbitantly and Ogun State is doing the same thing. We have written a letter to the Governor of the State and their agencies, telling them about the issue. We are not saying that our trucks should not be removed when it breaks down. Rather, it should be removed in order not to cause accidents and obstruction on the road. All we are saying is that outrageous bills should not be slammed on us. If that is not done, then we are going to take our trucks off the road.
The issue of truck park in Apapa has remained contentious. How is your association addressing this? 
We were negotiating one some years back with the Lagos State government. We committed resources running into millions of naira but towards the end of 2006, Lagos State government made a U-turn and said the place will no longer be used as a truck terminal. We were told that the place would serve as a low-cost housing estate but we could not fight the government. All the money we paid to the state government for the project is still in their purse which we have not asked for. Apart from the damages, we lost some of our trucks because they were engulfed by fire and as a result, some of our trucks got burnt. When Lagos State government said they were going to use the place, we had no choice than to mellow down. Apart from that, we have started working to see how we can get alternative. Meanwhile, we have gotten a place but we do not have the financial power to acquire the place and no political power to achieve the project because it is a capital-intensive project. We have written to Federal and State governments but we are yet to get a reply. The place is big enough to accommodate all the trucks that are operating both in Apapa and Tin Can ports which will cost billions of naira and there is no how we can spearhead such project without the support of the authorities. Also, we have started discussing with individuals and they have made some places available but we are waiting for government to come and make a policy statement that will enable the usage of the place. It is not just a place where trucks will park. We are also trying to see how all the trucks will leave the road so that there will be call-up system to call a particular vehicle at any time so that before the truck can leave anywhere it is parked, the driver would have received a message by text or radio to go load goods at a particular terminal. The company in charge of the system is FT Global and they have made power point presentations on the call-up system to the Lagos State government and the management of Nigerian Ports Authority (NPA). All these are the arrangement we are putting in place but we cannot kick-start without the authorities like NPA, Nigerian Shippers' Council and other stakeholders.
What do you think is the reason for incessant arrest of trucks by FRSC?
Well, what the FRSC is saying is that they are arresting the trucks whose containers are not properly secured on the trailers. They said they are doing that to serve as deterrent to others but the situation is beyond to serve as a deterrent. If a truck goes for a job for about N40,000 to N45,000, and the truck is arrested and given a bill of N200,000 to N250,000, then it is no longer a deterrent, it is repulsive.  There was a proposed meeting with the FRSC Corp Marshal to address the issue but our members were reluctant to attend. They asked what could be the essence of meeting with FRSC because of their attitude towards them. They would rather prefer FRSC change their way of operating before a meeting could be scheduled.  In my own opinion, I think it could have been better for our members to come and listen to what the Corp Marshal was going to say but we the executives are also planning to meet with the Corp Marshal and whatever is agreed at the meeting will be conveyed to our members. Presently, members are not happy with the spate of arrest going on nationwide especially here in Lagos and Ogun State. There are many of our members whose trucks are still being impounded by Customs at different locations and this arrest is having a very serious economic effect on the business and that is one of the reasons why most of the vehicles are in a rickety condition because the money the drivers are meant to use to repair those trucks are being taken away directly or indirectly. The ones that ply up country, to get there is about N500,000 and with that amount, fuel only has taken half of that money. When such a vehicle is arrested and asked to pay N200,000, the owner cannot pay it. This act has sent many of our members to their early grave and many of them got loans from banks to buy these trucks and to be able to maintain their trucks. So, it is difficult for them to pay back their loans. I believe after meeting with the Corp Marshal, we will work together without rancour.
Some stakeholders see your members as nuisance to the system. How do you view this attitude?
Going by Nigeria's constitution, everybody is entitled to his/her opinion depending on the way they see things. The people seeing us that way do not know the important role the truck drivers are playing because they are the movers of the economy. If trucks do not move in a country, the economy stands still. We are the enemy the country cannot do without.
The trucks are believed to be rickety. What are you doing about this?
The rate at which we are operating is nothing to write home about. Every truck working in Lagos is doing the job for free and not collecting money. If they are really working, then drivers should charge at least N150,000 to move any container and that is when a standard truck can be seen because a tyre cost N120,000 depending on the brand of the tyre. Meanwhile, people are not ready to pay for the service but we are happy with what Nigerian Shippers' Council is doing and arrangement is on for them to take us to the National Automotive Council. Through that body, we can access a soft loan that will enable us to acquire brand new trucks. But I had to let them know we cannot acquire any truck now until we secure a place that will serve as a truck terminal. We cannot bring the truck and put them on the road because it will be exposed to vandals. It would not be the best because whatever happens, the truck is at the person's risk and that is why we are working to make sure we have a terminal where we can put the trucks under fence with a lock.
What are the challenges your members go through?
One of the major challenges is the bad roads because most of our roads, not only in Lagos, are speed limiters themselves, so I think there is no need for speed limiting devices. The people that built the port know that it is not bike that will lift the containers coming into the port. They made provision for where trucks normally park, be it Apapa or Tin Can port but now all those places are taken away by other business activities. There is challenge of unavailability of a modern truck park where drivers can park their trucks and relax. Also, we need government intervention to enable us replace our ageing trucks.
What would you consider as your contribution to improve the maritime industry?
My interest is to see a truck sector go professional by having people that are levelheaded. We are working to see how to change the mind-set and mentality of our people. But one can only succeed in doing that by dealing with the environment under which the drivers and truck owners are operating. There should be a conducive atmosphere for the operators to enjoy.
Copyright Ships & Ports Ltd. Permission to use quotations from this article is granted subject to appropriate credit given to www.shipsandports.com.ng as the source.