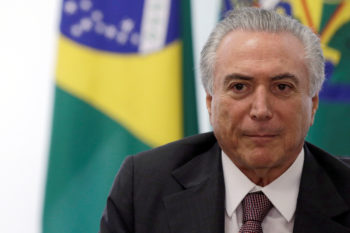 The Brazilian Trade and Investment Promotion Agency (ApexBrasil) said on Tuesday that it was convinced that there were currently new business opportunities for Brazilian companies in Nigeria.
The Agency's Trade Supervisor, Diogo Akitaya, who led a delegation of 11 Brazilian companies to Lagos, said it was important for Nigeria and Brazil to renew their business ties.
Akitaya told newsmen in Lagos that more Brazilian companies and businesses were prepared to renew transactions with Nigeria, as it was in the 1980s and 1990s.
"Just like it used to be in the '80s and '90s, we are now really interested in having more Brazilian companies presence across Nigeria.
"More and more Brazilian companies and businesses are now being attracted to new business opportunities in Nigeria.
"We do know that there are currently some of our companies in Nigeria, but we really want more businesses here in Nigeria. We also want Nigerians to come and invest in and do businesses in Brazil,'' he said.
Akitaya said ApexBrasil and the Brazilian Ministry of Foreign Affairs had recently organised a Brazil – Nigeria Business Forum for Nigerians and Brazilians to realise the existing business opportunities between their two countries.
The Brazilian Government official said the Trade Mission was composed of construction, agricultural machinery, food and beverages, machines and agribusiness equipment, cosmetics, oil and gas, security and aerospace.
"In the '80s and '90s, there used to be a strong presence of Brazilian companies in Nigeria, but after some time, business between our two countries was reduced.
"We have, therefore, organised a Trade Mission of these 11 Brazilian companies to Lagos for us to announce our readiness to now actively engage in business with Nigerians.
"And from our interaction with some Nigerians so far, we would now go back to tell more Brazilian companies of the business opportunities for them in Nigeria," he said.
Akitaya also said that the Trade Mission was in Lagos State to build a new business link for Nigerians and Brazilians.
Nigeria and Brazil have a mutual passion for football, both nations have huge oil reserves, with Brazil as one of the world's top ten producers, while Nigeria is also a top producer in Africa.
Brazil is the 5th most populated country in the world, while Nigeria is the most populated in Africa. 
Copyright Ships & Ports Ltd. Permission to use quotations from this article is granted subject to appropriate credit given to www.shipsandports.com.ng as the source.