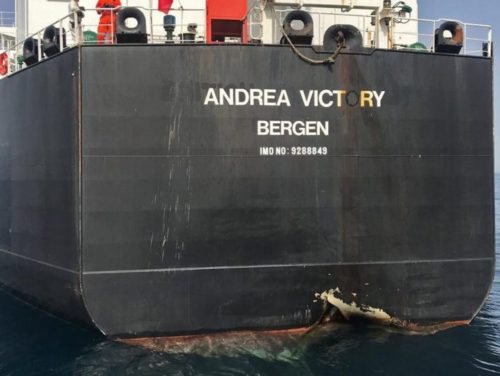 The Saudi Arabia-flagged tankers involved in the sabotage incident off UAE earlier this week have been identified as the 300,000 dwt Amjad and the 105,200 dwt Al Marzoqah.
According to data provided by VesselsValue, the VLCC and the LR2 tanker significant hull damage close to the water line after being fired upon in a suspected sabotage attack off Fujairah.
The incident occurred in the Gulf of Oman on May 12. There were no reports of injuries to the vessels' crews.
The ships were on their way to cross into the Arabian Gulf. One of the two tankers was to be loaded with Saudi crude oil from the port of Ras Tanura, to be delivered to Saudi Aramco's customers in the United States.
Besides the two Saudi tankers, the incident involved the Norway-flagged crude oil tanker Andrea Victory and the UAE-flagged tanker A Michel, both of which suffered significant hull damage close to the water line at its stern. A Michel began to list due to water ingress, and booms were deployed as a precaution against potential pollution, VesselsValue added.
Khalid Al-Falih, UAE's Minister of Energy, Industry and Mineral Resources, earlier denounced the attack adding that it had an aim "to undermine the freedom of maritime navigation, and the security of oil supplies to consumers all over the world."