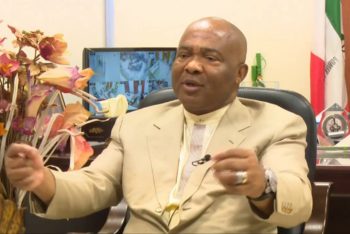 Chairman, Senate Committee on Customs, Excise and Tariff, Sen. Hope Uzodinma has called for training and retraining of officials of the Nigeria Customs Service (NCS) to improve their capacity and competence in the discharge of their functions.
Uzodinma who made the call while featuring on a national television broadcast monitored by SHIPS & PORTS DAILY on Wednesday, noted that knowledgeable officers were retiring daily from the NCS without replacement.
He said, "From what I see within the short period I have over-sighted the service is that they have abdicated this thing called training. They should be properly trained.
"I recalled two years ago, so many people were recruited into the Customs and two weeks after, they were given guns to start job but they have not been properly trained. So we need to train our officers. The seasoned trained officers are retiring day by day without replacement." 
Speaking on plans to acquire new scanners at the ports and border stations, Uzodinma said the scanners have been outsourced through a Public Private Partnership (PPP) arrangement pointing out that it is not the responsibility of government to acquire scanners for Customs.
"I am told the scanners have been outsourced through a PPP arrangement and that is one of the finest Foreign Direct Investment we are witnessing for a very long time in the country. We are trying to encourage CBN to make sure that we succeed but at the same time, we need to train our Customs officers.
"Customs must look at the norms, how things are done in the global order. There are certain things that are not supposed to be done by Customs. For example, issue of scanners. There is nowhere in the world where government buy scanners for their Customs Service. Government will only outsource the services of scanners to the manufacturers because equipment like scanners have life span limitation. They don't last more than three, four, five years and they will require replacement.
"The technical committee on Comprehensive Import Supervision Scheme under Central Bank was created by the pre-shipment Act. The membership is Central Bank, Federal Ministry of Finance, Federal Ministry of Trade and Industry, NAFDAC, SON and Shippers' Council; they have already appeared before us and address the problem because the technology they deployed is the same technology being used in France, Singapore, London and China among others.
"The new arrangement is expected to come with 64 scanners. It is a thorough platform signed agreement and there is no upfront payment by government. So all the entry and exit points in Nigeria will be properly manned and all the facilities for screening and scanning will also be deployed. They did a presentation when they appeared before us and we were unanimously satisfied that what they have is what is appropriate," he said.