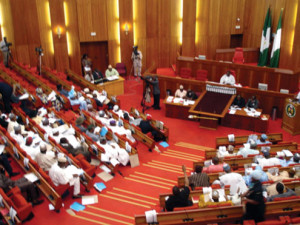 The Senate on Thursday referred the request by President Muhammadu Buhari to approve $5.5bn external borrowings by the Federal Government to the Committee on Local and Foreign Debts, with a mandate to report back in two weeks..
Deputy President of the Senate, Ike Ekweremadu, who presided over the plenary, referred the request after Majority Leader, Senator Ahmad Lawan, presented the request to the Senate for consideration, which was unanimously granted by the lawmakers.
Buhari had written to the Senate asking it to approve issuance of $2.5bn to finance the 2017 Appropriation Act and $3bn to re-finance domestic debts.
In the letter dated October 4, 2017, which President of the Senate, Bukola Saraki; and Speaker of the House of Representatives, Yakubu Dogara, read in the chambers at their plenaries on Tuesday, Buhari referred the Senate to the 2017 budget, which has a deficit of N2.356tn and provision for new borrowings of N2.321tn, respectively.
He said the Act also provided for domestic borrowing of N1.254tn and external borrowing N1.067tn (about USD3.5bn).