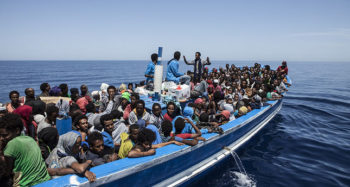 The Senate on Wednesday mandated its committees on Foreign Affairs and Diaspora to investigate causes of rising migration across the Sahara and Mediterranean Sea to Europe.
It charged the committees to proffer solutions to the problem.
The upper chamber also called on the Federal Government to strengthen the National Agency for the Prohibition of Trafficking in Persons (NAPTIP) and the Nigerian Immigration Services to take measures to prevent trafficking in persons.
This followed a motion by the Deputy Chief Whip, Sen. Francis Alimikhena, entitled "Trans-Sahara-Europe Crisis''.
In the motion, Alimikhena said that migration by Nigerians and other Africans through illegal routes across the Sahara and Mediterranean had resulted in colossal loss of lives over the years.
He said that Nigerians often embarked on illegal and irregular migration by finding their route through Libya, Morocco and Algeria.
"The International Organisation for Migration (IOM) report of 2016 revealed that more than 5,070 people were estimated to have died on migratory routes around the world.
"The Mediterranean alone recorded 3,870 casualties out of which 2,000 were from the Central Mediterranean.
"In view of the fact that many Nigerians are involved in irregular migration, the IOM made Nigeria and Iraq a case study in one of their researches, the result of which was mind-boggling in addition to the tragic losses of life.
"Also, a substantial number of victims are not recovered and even those recovered are buried with at best, a number and not a name.
"It is important to emphasise here that each unidentified migrant represents a missing person for a family that lives in perpetual grief without certainty of the whereabouts of their loved ones.
"This phenomenon is aggravated by the activities of unrepentant human traffickers who deceive unsuspecting Nigerians with promises of leading them to greener pastures only to sell them as sex slaves.
"At times, they even harvest their body organs for money,'' he said.
The lawmaker called for reverse of the trend and the inhuman treatment suffered by Nigerian migrant in the hands of Immigration officials in neighbouring countries.
In his contribution, the Deputy President of the Senate, Ike Ekweremadu, commended the sponsor of the motion.
He said that it was important to use the parliament as a platform to let the youth to know that there was no job available in Europe for them, stressing that the future of the youth lay in Africa.
However, Ekweremadu charged leaders to take up the responsibility of providing enabling environment for the youth to grow.
"As leaders, we owe them the responsibility to provide for them not only for today but for tomorrow. It is our responsibility to be creative enough to provide job opportunities for our people.
" Emphasis is being placed on agriculture. Yes, it is good but commercial agriculture has made it impossible for few people to feed the nation and so that cannot take care of all the youths that are unemployed.
"We must make conscious effort with the private sector to provide factories and industries all over Nigeria and the rest of Africa.
"We also need to lay emphasis on ICT to discourage them from taking this risk to migrate to Europe because they are our greatest assets,'' he said.
Sen. Shehu Sani (APC-Kaduna), while supporting the motion, said that it was a dangerous trend that had led to human trafficking, terrorism and drug trafficking.
He said, "Trans-Sahara-Europe migration is a reality, a reality that has affected nations in the sub-region and in the East African sub-region.
"According to statistics from International Organisation for Immigration, over 4,500 Africans drown in the Mediterranean Sea in their attempt to cross to the Europe. This is alarming.
"It is a moral duty for us as nation and as a parliament to intervene to see that our young ones stop crossing the Sahara to Libya and Algeria in an attempt to reach Italy.
"It is of note that just last week about 40 West Africans mainly from Ghana and Nigeria were buried along the Sahara and we can't fold our arms.''
Ekweremadu called for institutional framework and multi-national joint task force to tackle the menace.
In his remarks, the President of the Senate, Bukola Saraki, said that the legislature had the moral responsibility to intervene in the matter.
"I read just last week that we lost some Nigerians. Every time you travel to European countries and meet with their officials, the major concern is this issue of migration.
"So I think we ought to work on multilateral agreement to address this problem,'' he said. 
Copyright Ships & Ports Ltd. Permission to use quotations from this article is granted subject to appropriate credit given to www.shipsandports.com.ng as the source.