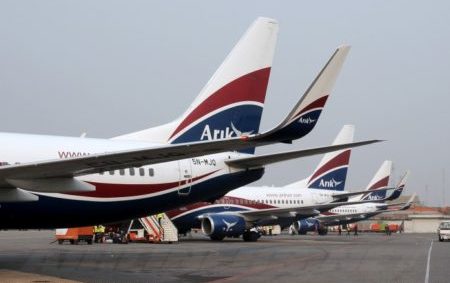 The Senate on Wednesday passed resolutions to protect indigenous airlines from going into extinction due to multiple designations and multiple frequencies granted foreign airlines in Nigeria.
The resolution followed a motion entitled "Unfair Competition and Urgent Need to Protect Nigeria's Indigenous Airlines from Extinction" sponsored by Sen. Ifeanyi Ubah (YPP, Anambra) and 20 others.
Presenting the motion at plenary, Ubah decried the licence given to some foreign airlines to operate multiple routes within Nigeria.
He said Ethiopia airline now operates in five cities of Enugu, Kano, Kaduna, Abuja and Lagos, while Turkish airline operates in four cities, namely Abuja, Kano, Lagos and Port Harcourt.
He said Emirate airline also operates two flights daily into Lagos and one to Abuja.
Ubah described the development as worrisome, stressing that this was not obtainable in other countries.
He said the practice would put indigenous airlines out of business.
Ubah explained that the Nigerian airlines such as Arik, Virgin Nigeria, Medview and others had in the past run out of international routes by this trend of unfair advantages provided foreign airlines in Nigeria.
He said the indigenous airlines had the capacity to cover all the domestic routes being operated now by their foreign counterparts.
Ubah said, "Nigerian jobs are seriously at risk as a result of this dire situation since it is the indigenous airlines that provide massive job opportunities for our people.
"Air Peace alone has 3,000 employees and has also created over 8,000 ancillary jobs.
"So, if this practice is not checked immediately, it will ultimately lead to the collapse of Nigeria's indigenous airlines."
Lending his voice to the motion, Sen. Abaribe Enyinnaya (PDP Abia), said the motion would protect Nigeria's economy.
He said that efforts should be made to support indigenous airlines that have the capacity to function effectively.
Other Senators, who supported the motion, said the adoption would create jobs for the people and ultimately improve the economy.
They said the motion was apt, given the contributions of the aviation industry to the growth of any nation.
However, Sen. Peter Nwaboshi (PDP Delta) said the motion if passed would affect Nigerians who travel by air given the incessant delay by some of the local airlines.
Also, Sen. James Manager (PDP Delta) advised the Senate to tread with care in taking decisions on the aviation industry.
He said there was a need to invite aviation experts to offer their views on the issue.
Sen. Sekibo Thompson (PDP Rivers) said the indigenous airlines do not have the capacity to provide all the services provided by foreign airlines.
Consequently, the Senate summoned the Permanent Secretary of the Ministry of Transport, Director General of Nigerian Civil Aviation Authority and the Managing Director of Federal Airports Authority.
The Senate also urged foreign airlines to provide statistics of Nigerians in their employment and encouraged them to employ more Nigerians and partner with indigenous airlines.
It further urged the federal government to give necessary support and protection to keep indigenous airlines afloat.