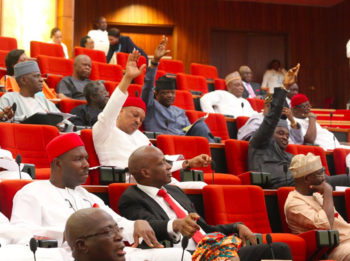 The Senate on Thursday approved N234.51 billion for the conduct of the 2019 elections by the Independent National Electoral Commission (INEC).
The sum was approved after the Chairman of Appropriation Committee, Danjuma Goje, presented a report for the consideration of lawmakers.
Of the amount approved, N189 billion was based on President Muhammadu Buhari's request while N45 billion is statutory transfer.
Statutory transfers are mandatory expenditures made annually by the Federal Government for certain institutions of which INEC is one. The transfers are made to ensure the independence of such agencies.
At plenary on Thursday, Goje, said the N189 billion vired through recurrent, capital and service-wide votes of the 2018 budget.
The Deputy Senate President, Ike Ekweremadu, had suggested that the approval should be suspended till next week in order to have a full report.
He said the interim report presented by Goje did not have the budget for the security agencies.
But Senate Leader, Ahmed Lawan, objected to Ekweremadu's position.
"We should approve the budget now and approve that of the security agencies next week," Lawan said.
On his part, Barau Jibrin, Senator representing Kano north, said INEC needed the funds urgently.
"It requires urgency. We will wait for the security agencies to bring their budgets," Jibrin said.
Senate President, Bukola Saraki, sought the views of other members of the upper legislative chamber before the money was approved.
The 10-week recess of the national assembly had delayed the approval, sparking fears that the 2019 elections might be postponed.
INEC had demanded N242 billion for the next general election.