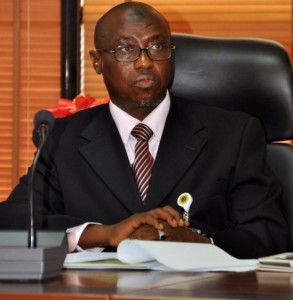 By Patience Danjuma 
The Senate has set up a panel to probe the Group Managing Director of the Nigeria National Petroleum Corporation (NNPC), Dr. Maikanti Baru, over allegations made against him in a petition to President Muhammadu Buhari by the Minister of State for Petroleum Resources, Dr. Ibe Kachikwu.
The panel will also investigate the policy introduced by the NNPC Trading Limited, a subsidiary of the corporation, among other issues. 
In a letter he sent to President Muhammadu Buhari and revealed by the media on Tuesday, Kachikwu had accused the NNPC GMD of insubordination and disregard for due process. 
Kachikwu said he found it pertinent to call the attention of the President to his misgivings because they were capable of hindering progress in the country's petroleum sector or even reverse recorded strides.
According to the Minister, "The legal and procedural requirements is that all contracts above $20m would need to be reviewed and approved by the Board of NNPC. Mr. President, in over one year of Dr. Baru's tenure, no contract has been run through the Board.  This is despite my diplomatic encouragement to Dr. Baru to do so to avoid wrongfully painting you as a President who does not allow Due Process to thrive in NNPC.
"Given the history of malpractices and the public perception of NNPC as having a history of non-transparency, the NNPC Tenders Board (NTB) cannot be the final clearance authority for contracts it enters into.
"The NTB, which is a collection of top level NNPC executives and COOs with the GMD as Chairman, cannot continue to be the final approval authority for multi-million dollar contracts and transactions involving NNPC to the exclusion of the Board. Board members have singularly and collectively raised these issues to no avail."
The minister urged the President to order the NNPC GMD to make adjustments on five issues that range from strict deference to the NNPC Board of Directors, which Kachikwu chairs and unfettered collaboration among all agencies in the petroleum sector.  
Copyright Ships & Ports Ltd. Permission to use quotations from this article is granted subject to appropriate credit given to www.shipsandports.com.ng as the source.