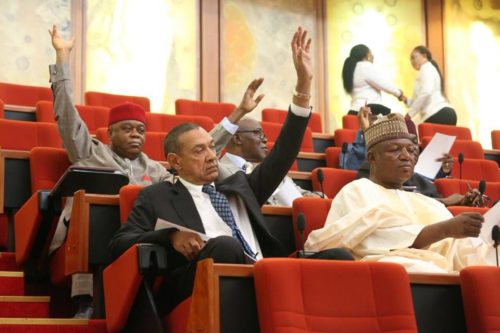 The Senate on Thursday agreed to grant an accelerated hearing to the new Minimum Wage Bill which was forwarded to the National Assembly by President Muhammadu Buhari after approval by the National Council of State on Tuesday.
The decision by the lawmakers to grant the bill an accelerated consideration was arrived at after Deputy Senate President, Senator Ike Ekweremadu, who presided over plenary, read the letter from President Muhammadu Buhari on the new Minimum Wage Bill.
Senate Leader, Ahmad Lawan, raised a point of order shortly after the letter was read, that Order 79 of the Senate Standing Orders 2015 as amended be suspended to enable the bill to be read the first time, go through second reading and subsequently be transmitted to the relevant committee for further action.
The bill was subsequently subjected to the first and second reading after Minority Leader, Senator Abiodun Olujimi, seconded the motion which was put to a vote and voted for by the lawmakers.
The National Council of State had approved N30,000 as the new minimum wage for federal civil servants and N27, 000 for states and private sector workers.