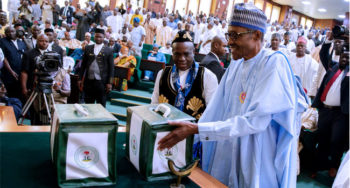 The Senate has said that the report on the 2018 budget will be considered and passed on May 16, next week.
This is coming six months after the 2018 Appropriation Bill was presented by President Muhammadu Buhari to the National Assembly.
Senate spokesperson, Aliyu Abdullahi, made the disclosure on Wednesday while addressing a press conference.
He said the committee on appropriation is working to ensure that the budget is laid next Tuesday.
He said, "It was supposed to be laid this week, but they are putting finishing touches. They are being careful so as not to make mistakes. The report would be laid Tuesday and by Wednesday, we will approve it.
"The good next thing is that it is the harmonised version (that would be laid). So whatever is laid in the Senate would be laid in the House of Representatives, and it would be considered and passed at the same time."