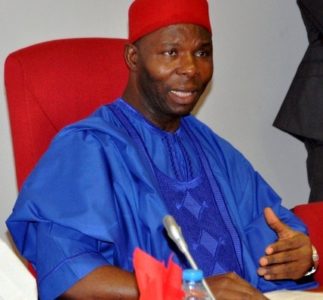 Chairman, Senate Committee on Anti- Corruption and Financial Crimes, Senator Chukwuka Utazi has blamed the inability of the Senate to resolve its pending face off with the Comptroller General of Customs, Hameed Ali on the failure of Vice President, Prof. Yemi Osinbajo to carry out the order of President Muhammadu Buhari on the matter.
Utazi who made this known in a television programme monitored in Lagos recalled that before President Buhari embarked on his medical vacation at the United Kingdom, he made a public statement directing the Vice President to look into the misunderstanding between the Executive and the Legislature.
"When he made that statement, he was in the country and when he left, the Vice President became the acting President, so he could not do any job. For me, I feel now that the President is back and the Vice President is there, he should still go in there because the issue is still unresolved and it is not helping matters.
"There are so many outstanding issues that are tied to it. There are so many appointments that have been made by the President and those appointments could not be address because of the issue.
"So I expect that Mr. President should direct that the order he gave before he left should be carried out to the latter. That is the only ways things can be done but if he glosses this over and look that way, this issue will remain and many other very important appointments that have been made will be suffering," he said.
He however admitted that misunderstanding as part of conflict would always be seen in a democracy adding that the most import thing was that the nation must move a step higher at the end of what he called conflicts of interest.
It would be recalled that the Senate earlier this year insisted that the Comptroller General of Customs, Hameed Ali appear on the floor of the Senate on Customs uniform, a development Ali had since taken to the court thereby putting on hold Senate's quest to get clarification on some issues bordering on Customs under his management.