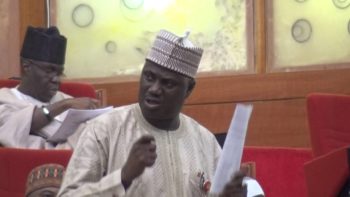 A member of the Senate, Sabi Abdullahi, says he will move for a law that will make only career civil servants head government agencies and parastatals.
Abdullahi, who is the spokesperson of the Senate, made this known in an interview with newsmen in Abuja.
He was reacting to Comptroller-General of the Nigeria Customs Service, Hameed Ali's refusal to wear the service's uniform and on the proposed policy for vehicle owners to pay duty on their vehicles.
He said that it was a disservice for civil servants not to be given the opportunity to head organisations they laboured decades to build.
The lawmaker added that bringing people from outside to head the agencies and parastatals had done more harm than good to the organisations.
According to him, some of the appointees have little knowledge of the workings of organisations they head, and this leads to anti-people policies, reduced productivity and other problems.
"I have a Bill I am working on; I am trying to bring my experience of how little things have brought the public service to what it is now.
"There has been reform but it has not changed anything. "It is a disservice for me to be eyeing a career peak and just when I think the opportunity for me to get to that career peak is going to come, something happens.
"And, it is not just this one happening in the Customs, it happens in many parastatals; that is the fate they suffer unfortunately.
"So, we have to begin to choose between what is a career peak and a political appointment.
"Even within the career peak, for example, the Head of Civil Service; it is a political appointment but it is done among those who are in the career service," he said.
On concerns by some experts that allowing civil servants to rise to the point of heading organisations could lead to corruption, Abdullahi said it was not a good reason to deny them the opportunity.
"The question there is that, is the system not having a way of sanctioning and discipline? There is a way of sanctioning and discipline; every career does.
"In companies, the private sector, if you are doing the wrong thing there is a discipline for you and if it means taking you out of the system, they take you out of the system.
"My take is that it is a wrong thing that I serve as officer, maybe grade level 8, rose to grade level 16 or 17, without a query, and I have very good record of performance, with promotion and everything.
"Just at that last stage, you say that if you give it to me I am going to be corrupt.
"The person who is brought in, what will he protect in the system. But the career person has contributed to the system, has defended and protected it, and has promoted the system.
"So, those who are in service have more to protect for the interest of the system than those who are brought in because they have nothing to lose," he said.
He gave some instances of where heads of organisations, who were appointed from outside, did not contribute meaningfully to the sustenance of the organisations.
"I have a lot of examples while in service. We were managing about 26 research institutes and colleges.
"I will tell you that over the past 10 years or 15 years that I know in the research institutes, for example, all the executive directors brought from outside remained the worse executive directors in those institutes.
"The case of Cocoa research is there, you can go and investigate; Lake Chad Research Institute is also there, just as Nigerian Stored Products Research Institute (NSPRI), Ilorin. There are many examples.
"We have many people who are brought from outside and they just come and mess the whole place up and mess those people who have given their whole life to a system," he said.
The lawmaker said that it was time such disservice was corrected, adding that in most cases, people who were appointed from outside an organisation worked contrary to the mandate of such organisation.
Copyright Ships & Ports Ltd. Permission to use quotations from this article is granted subject to appropriate credit given to www.shipsandports.com.ng as the source.