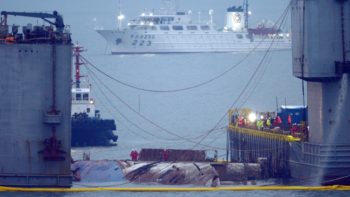 Salvage workers are pulling up a South Korean ferry that sank nearly three years ago killing more than 300 people, in one of the country's worst-ever maritime disasters.
The vessel, the Sewol, was structurally unsound, overloaded and travelling too fast on a turn when it capsized and sank during a routine voyage off the southwest coast on April 16, 2014.
Almost all the 304 dead were schoolchildren and it is thought that nine bodies still unaccounted for may be trapped inside the sunken ship. Raising the Sewol intact has been a key demand of the families of the victims.
TV footage on Thursday showed one side of the 6,825-tonne vessel, its white structure rusted and filthy, above the waves between two giant salvage barges.
Several relatives watched the much-anticipated complex operation, one of the largest raisings of an entire ship ever attempted, unfolding from a boat near the site.
"To see the Sewol again, I can't describe how I'm feeling right now," Huh Hong-Hwan, whose 16-year-old daughter was killed in the accident, told the AFP news agency. Her body has not been found.
Huh and his wife have for years maintained a bitter, defiant vigil in Jindo along with a handful of other relatives of missing victims.
"It took so long," Huh said.
Another parent, Lee Keun-Hui, tearfully called for public support and prayers to help move the ship onshore intact and a full inquiry into the sinking "so a tragedy like this would never ever happen again".
"It breaks my heart to see the ship coming up," she said. "My daughter has been trapped in such a dirty, dark place for all these years."
Other bereaved family members kept watch at a camp on a hilltop on Donggeochado – the nearest island to the site, just 1.5km away.
"The families want answers, they want a thorough investigation into what happened and why so many people died in this ferry disaster," Al Jazeera's Yaara Bou Melhem, reporting from Jindo, said.
"It appears that they will be at least one step closer to gaining closure for the death of their loved ones."
The vessel was lying more than 40 metres below the waves off southwestern South Korea and the operation, originally scheduled for last year, had been pushed back several times because of adverse weather.
About 450 workers were involved in the efforts to lift the ship, which now weighs between 8,000-8,500 tonnes including the silt piled up inside.
The Sewol disaster left the country deeply traumatised and was a crippling blow to the now-ousted leader Park Geun-Hye, whose dismissal was confirmed by Seoul's top court only two weeks ago.
Investigations into the disaster concluded it was largely man-made – the cumulative result of an illegal redesign, an overloaded cargo bay, inexperienced crew and a questionable relationship between the ship operators and state regulators.
Even though the vessel took about three hours to sink, many of those on board never heard any evacuation order, while the crew were among the first to escape to safety.
Captain Lee Jun-Seok was sentenced to life in prison for "murder through wilful negligence" and 14 other crew members were given terms ranging from two to 12 years.