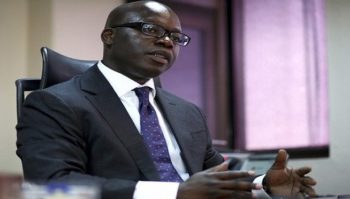 As the crisis rocking Oando Plc continued unabated, shareholders of the company at the weekend advised the current management under the leadership of Wale Tinubu to step down in the interest of all stakeholders.
A Federal High Court sitting in Lagos had last week dismissed a case filed by Oando PLC against the Securities and Exchange Commission (SEC) seeking to stop SEC from conducting a forensic audit on the company and also lift a technical suspension placed on its shares.
The presiding judge, Justice Mohammed Aikawa explained that the court lacked jurisdiction over the matter and advised Oando to take its case to the Investment and Securities Tribunal (IST)
According to the shareholders, the almost 19 years management structure has 'overstayed' and no longer serve the required purpose.
Under the aegis of Trusted Shareholders Association of Nigeria (TSA), the shareholders argued that "when people overstay in places, they compromise their corporate integrity and what happened (at Oando) was that they stripped some of the major assets of the company, both downstream and upstream and sold them to cronies and to themselves.
Quoting auditors of the company, Ernst and Young, the National Chairman of TSA, Alhaji Mukhtar Mukhtar said "since the assets had been stripped, how would money come in? That is why you see that over the years, they stopped paying dividend, no capital appreciation, no bonuses to shareholders and yet management and board remunerations keep increasing".
Explaining further, Mukhtar said: "If you remember from five-six years till date, Oando has not been a company, rather it has been a company in crisis, having lots of issues. The auditors appointed to audit Oando, having scrutinised its account, operations, expenses, finances and liabilities in relation to the asset of the company, came up with a very scary report, which tells everyone in clear terms that there are serious issues surrounding the company.
"That having scrutinised all its accounts, they came up with the report that the liabilities of that company have surpassed its total assets almost over N260 billion. The credible auditors with integrity gave their final verdict that the company or any of its subsidiaries cannot continue as a company. Once a company's liabilities are greater than its assets, there is no company.
"Some of our members told the National Assembly and I helped protest in about two or three places calling on the regulators to act and the regulators acted with some compromises. Such a thing cannot be done in the US, Europe and Asia because the regulators are there to protect shareholders, not to protect the interest of few people in government who have been going to pressure the Securities and Exchange Commission (SEC) to compromise.
"What the regulator should do in every other country is that first of all, if there are evidences or signs of infractions in any company, the first thing you do is to sack that management, constitute a forensic audit, and suspend the shares of the company. SEC on the other hand took two decisions but did not sack the management.
"How can you do that in all sense of fairness without sacking that management? This is why we say the regulators are not serious because during the period the Emir of Kano, Sanusi Lamido Sanusi, was the Central Bank of Nigeria (CBN) Governor, upon noticing infraction in some banks, he had to sack them after which he instituted interim managements, suspended their shares and instituted forensic audit. That is what every sensible regulator should do, not involving itself in kangaroo measures. Now, the regulators are being challenged because they acted on compromise because it seems SEC is even afraid of itself", said the TSA boss.
According to Mukhtar, the main issue is "that the regulator should have acted long ago because as a sensible regulator, they foresee signs of trouble in companies because these companies have to render their financials and the regulator ought to have acted as a policeman; they must have their informants, must be doing their checks and balances. They must have informants that would be telling them about companies and even issues in the capital market would not be hidden. Some of the shareholders' association here have been compromised and have been used as channels to reach SEC on what they should not do.
"Some members of the National Assembly also have been pressurising SEC to compromise. If I were in the shoes of SEC, it will be better for me to lose my job doing the right thing rather than me doing the wrong thing. In that way, posterity will record me. If things have been compromised this way, how do you think the capital market can be sanitised? If the auditors can give such a damning report, what moral integrity have we as Nigerians and regulators not to act against Oando management? Therefore, it is anybody's guess as to why the regulator on seeing these things for years and did not act'.
Making reference to the reported N160million for the audit, the TSA boss said: "So, because of cost, fraud and mismanagement should be accepted in the system? That is a very stupid argument. All regulators all over the world do their job. What is N160 million in the capital market? How much is SEC spending on other things yearly? N160 million is insignificant.
The TSA boss who spoke on sundry issues said: "When we observed the inactivity of the regulators, people had to start protesting to air their grievances to force the regulators to act. It was the reason people also wrote petitions to the National Assembly that as our representatives, they can act in good faith. But with what has been happening, I am afraid".
On Conoco Philip acquisition, he said: "It is linked to it because it was not well managed. If it had been a transparent deal, it would have come with some value to the company but the value is non-existent and the shareholders were thinking about the additional value that was coming but because it was shrouded in secrecy, only God knows what really happened".
On impact on minority shareholders, he said: "They are feeling the pinch and they are annoyed with us. They are really bitter that the company is not running well. Looking at other oil companies like Forte Oil, Total, Conoil, they are all giving dividend and they operate in better position than Oando. These are people who parted with their investment to get some returns so that they can pay school fees and their rents. But today nothing is forthcoming for them. Oando, I think is over 50 years from Unipetrol and the minorities are lamenting that is what they have been reduced to? They are equally angry with the regulators. I mean, why should a management be left to last for 19 years?
He added: "It is not a new fact that the regulators are being challenged, even the small steps they took, the compromised step of the suspension of the shares and the forensic audit, they are being challenged. I will commend the Johannesburg Stock Exchange (JSE) for taking this proactive measure to suspend Oando and this is because they have read the situation that despite all the compromises, there is a problem with the company and because they are regulating the market, they are doing their job as they make investigations and have people who report to them".
On how to protect market integrity, the TSA boss said:"Issues like this have decapitated the integrity of the market. Foreign investors are being discouraged from coming into Nigeria. Any investor you approach to invest in your company will demand the audit report of your company and they prefer foreign audit companies to checkmate your annuals. Once they see their stamp, they will know that this is the factual result.
"Based on that, they bring in their money to invest in such companies. But in a situation like this, reputable auditors have given their verdict and yet the regulators have not acted in good faiths, the government has not acted. This will discourage foreign investors and the common man. So, practices like this will discourage Nigerian and foreign investors. This is why you see that our companies do not last long".