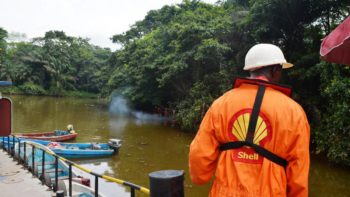 Royal Dutch Shell Nigerian subsidiary,(SPDC), has recovered more than 95 per cent of spilled oil from the recent incidents in Bayelsa and Delta states.
Shell Petroleum Development Company of Nigeria Limited, Media Relations Manager, Bamidele Odugbesan, who made the disclosure in a statement on Sunday in Port Harcourt, said SPDC acknowledged the spills and expressed regret over the incidents.
Odugbesan noted that recoveries were made on sections of the Trans Ramos Pipeline (TRP) in Aghoro community, Bayelsa and Odimodi community, Delta.
Odugbesan said that the pipeline, which remained shut-in since the incidents, supplied crude to the SPDC Joint Venture-owned Forcados Oil Terminal in western Niger Delta for export.
He said, "In line with the standard operating procedures of SPDC, the TRP was shut down immediately the incidents were reported and the Oil Spill Response and the Emergency Response teams were activated to manage the incidents and prevent further spillage.
"As soon as clean-up and site assessment are completed, we are committed to starting the immediate remediation of the impacted areas in Aghoro and Odimodi."
According to Odugbesan, details of the cause and impact of the spills will be captured in the Joint Investigation Visits (JIV) reports, which will be released after sign-off by all parties.
"The JIV is a multi-party exercise involving the regulators, the community, representatives of the state government, security agencies, and representatives of SPDC.
"The outcome is then signed off by the stakeholders to authenticate the findings," he said.