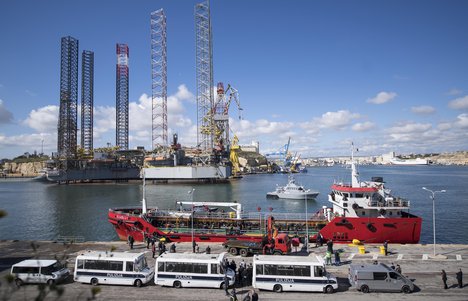 A ship hijacked on Tuesday in the Mediterranean Sea by migrants has arrived at a port in Malta.
The 846 dwt tanker, El Hibru 1, had rescued more than a hundred migrants
in rubber boats off Libya. After attempting to turn back to Libya, the tanker was allegedly captured by a group of migrants and diverted to Malta.
"The Armed Forces of Malta established communications with the Captain of Motor Tanker ELHIBRU 1 when it was about 30NM away and still proceeding towards Malta. The Captain repeatedly stated that he was not in control of the vessel and that he and his crew were being forced and threatened by a number of migrants to proceed to Malta," the Armed Forces of Malta (AFM) said in a statement on Thursday.
A patrol vessel sent by the AFM stopped the bunkering tanker from entering the Maltese territorial waters.
An AFM team boarded the vessel, handing over the control of the ship to
the Captain.
The tanker, its crew members — the majority of them being Turkish nationals — and the migrants were escorted by the AFM assets to Boiler Wharf where it docked in the morning hours of March 28.
There were 108 migrants aboard the tanker including women and children. Four of them, believed to have hijacked the ship, have been arrested.