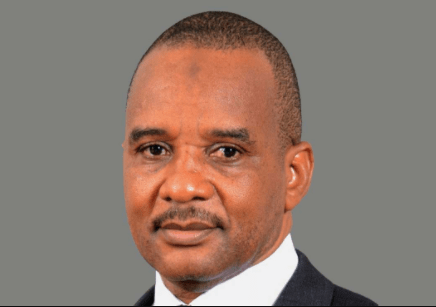 Ship owners and other maritime industry stakeholders have commended President Muhammadu Buhari over the appointment of Dr. Bashir Jamoh as the new Director General of the Nigerian Maritime Administration and Safety Agency (NIMASA).
Jamoh replaces Dakuku Peterside whose tenure would expire on Tuesday.
Speaking with SHIPS & PORTS, pioneer President of Shipowners Association of Nigeria (SOAN), Engr. Greg Ogbeifun, described the choice of Jamoh, who is an industry expert, as a good development for the industry.
"It is a rare opportunity to have somebody who has been in the system over a couple of decades, who has seen it all both the bad and the ugly and does not need to be tutored on what the agency's mandates are. This is the first time a true insider is being appointed as the DG and that to me is a very good development. He definitely will have his own strategy on how to deliver on the mandate. I am very comfortable with his appointment.
"Jamoh is somebody who has taken his time to develop himself career-wise going by his profile. It means that he does not only have the practical experience or the field knowledge, he is also updating himself with the current industry requirement," Engr. Ogbeifun, who is also the Chief Executive Officer of Starzs Investment Company, said.
On his expectation from the new NIMASA DG, Ogbeifun urged the new NIMASA helmsman to ensure the timely disbursement of the Cabotage Vessel Financing Fund (CVFF) and also use his wealth of experience to build indigenous capacity as well as address the challenges of maritime security in Nigeria's maritime domain.
He said, "He should conclude the issue of CVFF which has just been initiated. That should be his biggest low hanging fruit that would give him a big applause by the industry. The CVFF is an issue that has been on the drawing board for a long time and finally a committee has been set up by the Minister of Transport to review the guidelines. So, he should quickly step in to that and make that a reality. That way he would have the support of the entire maritime sector.
"On the issue of security, Jamoh himself is an expert in the issue of maritime security from the book he published, so I think he would probably articulate an effective solution to the lingering maritime security issue that is making Nigeria waters a very unsafe haven in international shipping. The issue of capacity development both in human capacity and infrastructure development are platform that are critical to actualize the pillars of the Cabotage act.
"Dakuku did a lot to bring Nigeria into the international space; I don't think Jamoh should do any more than that. He should stay more at home and attend to urgent matters than flying all over the place to put our name in the map that did not help us even at the International Maritime Organisation (IMO)."
A member of the Steering Committee of the Nigerian Shipowners Association (NISA), Capt. Taiwo Akinpelumi, who also hailed the appointment of Jamoh, said he is a round peg in a round hole given his years of experience in the maritime industry.
He urged him to use his appointment to foster greater collaboration with industry stakeholders to redirect the industry towards greater heights.
He said, "I consider the appointment of Bashir Jamoh to be in order. Apart from having been in the system for so long, he has some requisite credentials that qualify him to occupy the position, such as but not limited to his years of experience in the maritime industry, his academic qualifications, his author of some books and papers on some maritime related issues, and most importantly, willingness to come onboard to implement stakeholders agenda in the industry. I believe his tenure will be for the stakeholders. And you can't agree less with me that a robust engagement of stakeholders will be one of the major catalysts to the growth and development of a veritable maritime industry.
"Dakuku did not make any clear or concerted effort towards the development of local capacity; it was all motion and no moment. His incompetence didn't allow him to have full appreciation of what is required to build capacity for the indigenous shipping.
"The agency under Dakuku's leadership lacks flag state coastal responsibility. This was one of the major reasons Nigeria lost the 'Category C' election in IMO. He also lacks clear-cut blue print on maritime security. NIMASA, under him (Dakuku) embraced joint maritime initiative that creates functions overlap, against developing an initiative that NIMASA can claim ownership with full control and make request for backup from other security agencies should the need arises.
"His leadership was fraught with underperformance, sectionalism, filtering away resources on frivolities such as payment on endless seminars, meetings, summits and humongous amount to hire musicians and people in the entertainment industry. It will be correct to tag him Nollywood DG."
On his part, the Chairman, Nigeria Port Consultative Council (NPCC) Otunba Kunle Folarin said, "We are glad that an insider has been considered for the office of the DG because the industry has been pushing for a long time that an industry person rather than only politicians be considered for the office of the DG, which is highly sensitive in the areas of maritime administration and policy.
"Dr. Jamoh has over 30 years experience in the industry and he has served in various capacities, all this put him in a good speed to be able to administer NIMASA and I am sure he will get all the necessary support of the industry."