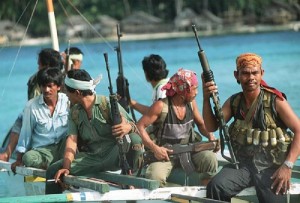 A surge in piracy to the west of the Philippines is forcing shipowners to divert vessels through other waters, stoking their costs and extending the time it takes to transport goods such as Australian iron ore to key Asian destinations.
There have been 16 attacks since last March on ships in the Sulu and Celebes Seas, through which about $40 billion worth of cargo passes each year, according to the Regional Cooperation Agreement on Combating Piracy and Armed Robbery against Ships in Asia (ReCAAP).
That government-backed anti-piracy organisation says over a dozen crew are currently being held hostage by Filipino Abu Sayyaf militants, all from ships sailing through the Sulu and Celebes Seas.
"The Sulu/Celebes area is the world's fastest growing piracy hotspot, with violent attacks on commercial vessels and their crews, and an increasingly successful kidnap and ransom business model," said Gerry Northwood, chief operating officer at armed guard company Maritime Asset Security and Training (MAST).
The International Maritime Bureau's piracy reporting centre in Kuala Lumpur has also warned of the rising threat of armed pirates in these waters, with shipping companies starting to shy away.
"Increasing piracy particularly in the Sulu Sea has been a rising concern for us," said Benedikt Brueggermann, chartering manager at shipper Oskar Wehr Asia in Singapore.
"We are doing our best to avoid the area both on empty and laden voyages. We'd rather do that than put the ship and crew's lives at risk. It's very sad to see this happening in this region."
Shipping data in Thomson Reuters Eikon shows several large vessels carrying iron ore from Australia to northern Asia, which used to take the route through the Sulu Sea, are now sailing east of the Philippines, through the open Pacific Ocean.
At least six shipping companies are diverting vessels via this route, according to shipping executives.
One is U-Ming Marine Transport, Taiwan's largest dry-cargo shipowner, which said 10 of its large capesize-class ships have taken this detour since the end of 2016.
"All our ships sailing from Australia to China and North Asia are now sailing via east of Philippines – it is a proactive action to prevent pirate attacks," said U-Ming's president, Ong Choo Kiat.
Other firms avoiding the Sulu and Celebes seas are Eastern Pacific Shipping, Diana Shipping, and Anglo-Eastern Ship Management.
Sailing east to avoid the Sulu Sea adds about half-a-day to a 14-day voyage from Port Hedland, Western Australia's main iron ore export terminal, to northern Asia.
Shippers said that while the extra costs of around $300 per day for fuel on each journey were not huge, the added costs would mount up over time – another blow to an industry already grappling with a period of extremely low profit margins.
Copyright Ships & Ports Ltd. Permission to use quotations from this article is granted subject to appropriate credit given to www.shipsandports.com.ng as the source.