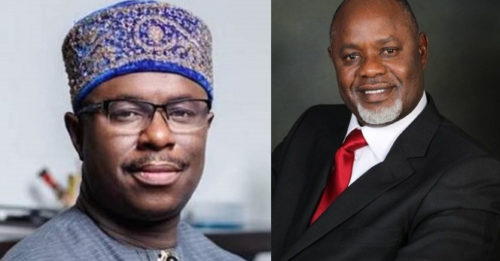 The Nigerian maritime industry forecast 2019/2020 recently released by the Nigeria Maritime Administration (NIMASA) has continued to elicit reactions from stakeholders, with the Shipowners Association of Nigeria (SOAN) describing it as "extremely unrealistic".
The Director General of NIMASA, Dakuku Peterside had announced a projection of 10 percent growth, stating that the industry would witness increased demand in shipping business in 2019.
According to the forecast, the empirical analysis projects the growth of the total fleet size in 2019 over 2018 to be 10.33 percent, easing to 8.75 percent for 2020. Oil tanker fleet size is projected to decrease by 11.2 percent for both 2019 and recover to a positive growth of 0.11 percent by 2020.
The projection for non-oil tanker fleet size is estimated to increase by 14.3 percent in 2019 and 10.2 percent in 2020, while oilrig count is projected to increase by 6.98 percent and 6.5 percent for 2019 and 2020 respectively.
But speaking in a chat with SHIPS & PORTS DAILY, President, Shipowners Association of Nigeria (SOAN), Engr. Greg Ogbeifun, while describing the forecast as "extremely unrealistic", noted that it was more theoretical than practical.
Ogbeifun said NIMASA ought to have reviewed the performance of last year forecast and addressed areas of shortfalls before making projections for 2019/2020.
He said, "Before we start projecting for the future, what is the performance of last year projection? What was the percentage achievement of what was projected last year? If the projection was not achieved, what contingent arrangement have they put in place to mitigate those shortcomings? What did we achieve that will give you the confidence on your projection?
"As a shipowner, CVFF (Cabotage Vessel Financing Fund) has not been disbursed, our fleet has not grown. On the issue of seafarers, shipowners are still struggling to find adequate seafarers to employ to stop us from applying for waivers. NIMASA said they have sent some cadets abroad for training. In one year, one would expect that those cadets would have moved from one level to another in their training programme. Let us have the statistics, we should have a graphic position on where we are on the issue of CVFF, these are practical things that people can relate to. 
"The forecast report look nice on paper but some of us can't relate to it because we need to know where we are coming from, where we are and how NIMASA expects to get us to their projections."
Secretary, Nigerian Maritime Law Association (NMLA), Emeka Akabogu said the forecast is ambiguous as the parameters used in giving a broad-based forecast of the industry was limited to total fleet, which according to him, does not give the full picture of the relevant maritime industry activity.
"In the first place, the fleet size is not effectively classified into vessel types to give an indication into the nature of vessels that the growth is referable to. Though non-oil tanker fleet is stated as the key driver of significant growth, insufficient detail is provided as to the nature of this non-oil tanker fleet.
"Investors, many of whom we advise, will be keen to explore this industry segment with fuller details, particularly in view of historical apathy for investment in non-oil vessels. The reference to non-oil tankers is particularly curious, as the country is not known for any non-oil and gas cargo of significance that will drive the projected growth," he said in a statement made available to SHIPS & PORTS DAILY.
Akabogu recalled that the agency's 2018 forecast factored regulatory impetus to be derived from legislative enactments which were to come on stream in 2018 but the five proposed bills mentioned including the Suppression of Piracy and other Maritime Offences Bill, National Transport Commission Bill, Petroleum Industry Governance Bill, Coastal and Inland Shipping (Amendment) Bill, Ports and Harbours Bill are still under legislative or executive consideration, resulting in a repetition of 2018 expectations in the 2019 forecast.
On his part, financial expert and Managing Director, Cowry Assets Management, Johnson Chukwu said, "This year's projection is overly optimistic because of the current political environment. The level of importation has gone down as a result of investors waiting on the outcome of the election. However, after elections, economic activities is expected to pick up which will also affect level of activities in the sector once appropriate policies are put in place."