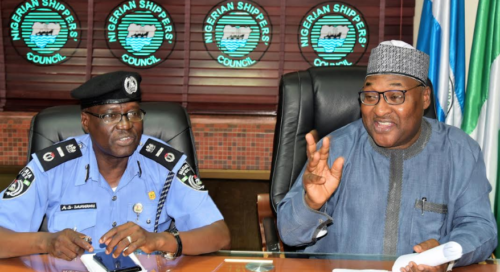 The Nigerian Shippers' Council (NSC) has asked freight forwarders operating at the nation's seaport to ignore unauthorised policemen that are involved in the illegal interception of already cleared cargoes.
Executive Secretary of the NSC, Hassan Bello, said this on Tuesday when he received the Assistant Inspector General (AIG) in charge of the Maritime Police Command, AIG Abdul Danwanu, who visited the council's headquarters in Lagos.
According to Bello, the illicit activities of some police officials posted to the ports are impeding clearing process of cargoes. 
Bello reminded his guests of the directive from the Inspector General of Police, Muhammed Adamu, which reinforces the mandate of the AIG Maritime and the Commissioner of Police in charge of Western and Eastern Authority as being the formations with primary responsibilities for police operations at the seaports.
He said, "Other men and officers of the police have no business in the interception of cargoes at the port."
Bello expressed the council's readiness to embrace the order by the Inspector General of Police to address the unwholesome practices by officers, adding that the mandate of the council is to sanitize the ports, ensure that cost remain reasonable and Nigeria competes with other countries in terms of best practices.
In his remarks, AIG Danwawu assured stakeholders that the Maritime Police Command would always seek directives from the NSC on stoppage of containers.
"The Maritime Police Command will cooperate with NSC to make the ports meets its aspiration," he assured.