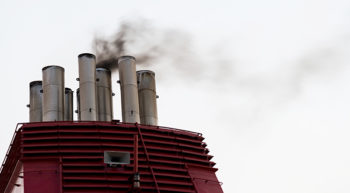 The shipping industry will need to adopt alternative fuels to heavy fuel oil to meet the demands of CO2 reductions, believes Douglas Raitt from Lloyd's Register (LR).
Looking at what Raitt, regional consultancy manager for LR, described as "tsunami of regulations" related to the environment, he highlighted CO2 reductions as the biggest challenge facing the industry.
"The biggest development that will impact shipping will be CO2 emissions," Raitt told the Mare Forum Singapore conference on Wednesday.
Noting the industry's reaction to low sulphur regulations with a 0.5% cap due to come in globally from 2020 he likened owners' reaction in terms of compliance to "Bambi in the headlights of an oncoming car".
The industry had sat on the fence with just 400 scrubbers installed and only 80 gas powered ships in operation and 80 more on order, despite bullish predictions from many including LR on the expected take up rate of LNG as a fuel just a few years ago.
On top of low sulphur will come CO2 emissions, of which shipping accounts for 2.5% of the global total.
Up till now shipping's main reaction to the environmental agenda has been the eco-ship, but Raitt questioned if this would be enough to meet the demands for CO2 emissions. "I do not believe CO2 reductions can be achieved by optimised shipping."
Instead shipping will need to "bite the bullet" and switch to alternative fuels such as gas.
While the US headed by President Donald Trump may be pulling back from addressing climate change, this will not be the case in other parts of the world. "With the EU and China very much clued up on C02 shipping will have to pull its weight. The question is how," Raitt stated.
"It will lead to some sort of market based measure – its not a case of if but when."
Copyright Ships & Ports Ltd. Permission to use quotations from this article is granted subject to appropriate credit given to www.shipsandports.com.ng as the source.