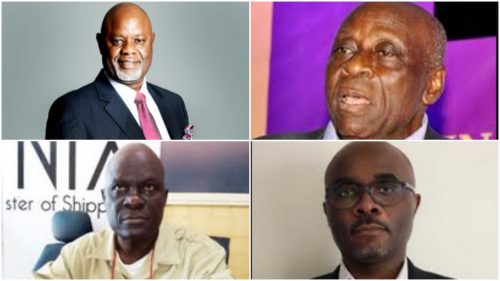 Maritime industry stakeholders including shipowners and master mariners on Thursday have lauded seafarers for their invaluable contributions in sustaining global trade despite the disruption caused by the COVID-19 pandemic.
This came as the stakeholders called on the Federal Government and relevant agencies to pay more attention to the seafarers and address the challenges they face including crew change, welfare and unemployment so that they can compete favourably with their counterparts and chart a new path for the nation's maritime industry.
The stakeholders spoke at the SHIPS & PORTS WEEKLY VIRTUAL DIALOGUE tagged held in commemoration of the 2020 Day of the Seafarer with the theme "Seafarers as Key Workers".
Chairman, National Seafarers Welfare Board (NSWB), Otunba Kunle Folarin, who highlighted some of the challenges faced by seafarers especially in the face of the OVID-19 pandemic, said efforts must be made to ensure improvement on the employment conditions of seafarers and safe repatriation of those stranded at sea.
He said, "All issues of concern to seafarers must be addressed including their welfare and changing crews for those who have been traumatized who want to rejoin with their families. Seafarers spend longer times at sea particularly in this period when they cannot come ashore for one reason or the other and this is where the issue of compensation comes into the fore for the longer time they spend at sea.
"The immigration must be very flexible in implementing their rules about port passes and disembarking of crew men to join other ships or to go back to their destinations.
"In recent times, we have noticed that it has been very difficult because flights have not resumed and so repatriation has become an issue but we have continued to engage ourselves. When there are window of opportunities for the seafarers to leave this shore out of the country to their home states, we try to encourage that.
"The NSWB has been working seriously with immigration and port health to ensure that this happens. NIMASA also has to ensure that they step up their game in surveillance and combating piracy in the region, otherwise the seafarers' lives and safety is compromised."
Otunba Folarin also tasked shipowners on the need to comply with the collective bargaining agreement on the welfare of seafarers.
Also speaking, President, Nigerian Association of Master Mariners, Capt. Tajudeen Alao, used the occasion to appeal to the government to settle the outstanding entitlements of retired seafarers who worked for the defunct Nigerian National Shipping Line (NNSL).
He said, "The seafarers in the officers' cadre up till now are still fighting for their pensions. For the ratings, they were supposed to be paid severance packages and for many years they are still fighting for that. The Nigerian government inherited some Elders Dempster workers and they are just abandoned. Our people are dying; we want to enjoy the fruit of our labour before we go. We contributed a lot to the success of this country during the Nigeria Civil war. Retired seafarers on NNSL are still crying out. So we are appealing to the government to put a smile on their faces."
President, Alumni of Maritime Academy of Nigeria (MAN) Oron, Austin Ume Zurike, noted that a lot of cadets are suffering as they cannot get onboard ships for sea time after their graduation from the academy.
According to him, there are over 4000 cadets who have graduated from the academy over the past 10 years but could not continue their sea career because of lack of sea time.
Ume Zurike also expressed concern that since the establishment of MAN Oron over 40 years ago, the Certificate of Competence (CoC) it issues to seafarers are not recognized by most international shipping lines and even those operating in Nigeria.
"It is important to have the required sea time to be able to complete training and certification. But can we also look at the current certificate that is being awarded in-country by the administration and the maritime academy?
"It is actually quite embarrassing that for the past 40 years since the existence of MAN Oron and our administration as a maritime nation for the past 80 years, we as a country are unable to meet the minimum standard that is required to award a certificate of competency that is recognizable internationally. Even some local shipowners do not want to employ seafarers with local certificates.
"For a country as big as we are with our history and for us not to be able to achieve a management level certification for our seafarers is quite embarrassing for the administration and training institutes," he said.
Foremost ship owner and Chairman, Starz Investment Company, Engr. Greg Ogbeifun, who also spoke on the programme called for strong collaboration between NIMASA and MAN Oron to achieve standard certification that will qualify Nigerian seafarers to man cabotage vessels.
"Without the cadets, we cannot develop seafarers. That is the starting point for seafarers. We are in a country where we do not have any global training ship anymore. Much as we want to certify our seafarers up to global standard certification, why don't we first of all focus on meeting the needs of our homegrown trade?
"Most Nigerian ship owners are still finding it difficult to get well trained seafarers to man their ships that are trading in the Cabotage domain. Why don't we just forget this international thing for now and work with our training institutions and the local ship owners to train our cadets and seafarers to get the certificates they need to be able to man ships in our waters?
"Until we get a global fleet, and the platform for the global certificate is created, I think MAN Oron and a couple of maritime institutions in this country have what it takes to train the Nigeria seafarers to the level where they will be able to operate ships in Nigeria," Engr. Ogbeifun said.
Copyright Ships & Ports Ltd. Permission to use quotations from this article is granted subject to appropriate credit given to www.shipsandports.com.ng as the source.