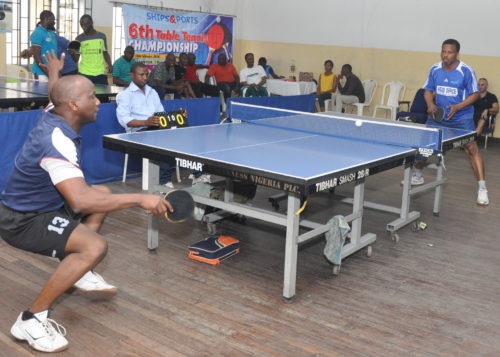 All is set for the 7th edition of annual Ships & Ports Table Tennis Tournament holding today at the Apapa Club, Lagos.
The tournament is sponsored by the immediate past National President of the Association of Nigerian Licensed Customs Agents (ANLCA), Prince Olayiwola Shittu and top dredging firm, Lagos Channel Management Limited (LCM).
Defending champion, Jeremiah Ikoko of the Nigerian Maritime Administration and Safety Agency (NIMASA) will defend the Prince Olayiwola Shittu Trophy he won last year against 50 other contenders.
Certified top umpires drawn from the Table Tennis Umpires Association of Nigeria are already on ground to officiate the one-day tournament, which attracts participation from diverse organisations in the maritime industry.
Last year, 60 participants drawn from the Nigerian Ports Authority (NPA), NIMASA, Nigerian Shippers' Council (NSC), Tin Can Island Container Terminal (TICT), Lagos Channel Management (LCM), Dangote Port Operations, Bollore Shipping, ENL Consortium and the Maritime Microfinance Bank (MMFB), among others, took part in the tournament.
The winner of the tournament goes home with the Prince Olayiwola Shittu Trophy and N100,000 while the first and second runners-up get N50,000 and N30,000 respectively.
Coordinator of the Ships & Ports Table Tennis Championship, Eucharia Udoaka, said the championship is the first of its kind in the shipping sector.
"The one-day championship was instituted to promote recreation and healthy sporting activities among maritime industry operators," Mrs. Udoaka said.
The sponsor of the trophy, Prince Olayiwola Shittu served as ANLCA President for eight years, from 2010 to 2018. He has been credited with far-reaching reforms in the association and in the freight forwarding industry. He left several legacies in the association including an ultramodern national secretariat, which is the first of its kind in the history of freight forwarding or Customs brokerage in Nigeria.
Prince Shittu donated the trophies for the tournament at inception in 2013 and has been steadfast in supporting it every year.
LCM, which is co-sponsoring the tournament, is a public-private partnership enterprise formed in 2005 with its core operations centered on the management and dredging of the Lagos channels. The enterprise has made tremendous efforts and visible improvement in the depth, safety and navigational access of the Lagos channels in particular and Lagos port as a whole.
The 2018 edition of the competition was won by an employee of the Nigerian Maritime Administration and Safety Agency (NIMASA), Jeremiah Ikoko while Sunday Otaru, a shipping manager with Bollore Logistics, won the tournament in 2017. The first four editions played in 2013, 2014, 2015 and 2016 were won by Kehinde Borokini of Nigerian Ports Authority (NPA).