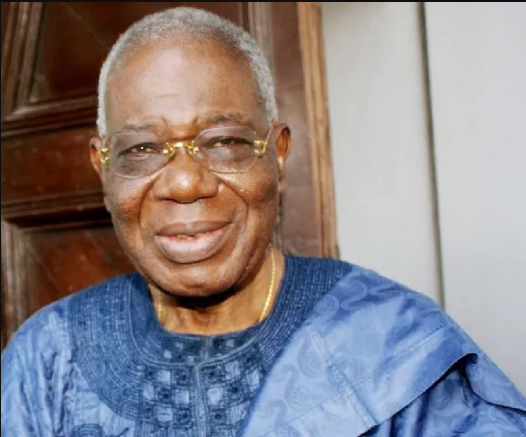 President Muhammadu Buhari has directed that national flags should be flown at half-mast in honour of late Head of State, Chief Ernest Shonekan.
Chief Shonekan died in Lagos on Tuesday. He was 85 years old.
Secretary to the Government of the Federation, Boss Mustapha, said in a statement on Tuesday that all national flags will be flown at half-mast from January 12 to January 14.
"Following the death of the former Head of the Interim Government, Late Chief Ernest Adegunle Oladeinde Shonekan, GCFR, President Muhammadu Buhari, has directed that the national flag be flown at half-mast, effective from Wednesday 12th – Friday 14th, January, 2022, as a mark of respect for the former Head of State who died on Tuesday 11th January, 2022 at the age of 85," the statement reads.
Earlier in a condolence message, President Buhari described the late leader as an internationally-respected statesman with courageous wisdom.
Buhari said the late Chief Shonekan left his flourishing business career to become the Head of Government, at a delicate time when the country needed someone of his calm mien and pedigree to save the ship of state from sinking."
Also, former President Olusegun Obasanjo said Shonekan, died "at a time Nigeria was in dire need of his leadership, wealth of experience and wisdom to tackle the multifaceted challenges facing the nation."
In a condolence letter to Mrs Margaret Shonekan, copy of which was made available to newsmen in Abeokuta by his Special Assistant on Media, Kehinde Akinyemi, Obasanjo said the late business mogul was "a role model and an epitome of the good in the nation's business firmament of mixed blessings."
On the political scene, Obasanjo noted that Chief Shonekan, as the Head of the Interim National Government in Nigeria in 1993, though short-lived for the period of three months through the palace coup orchestrated by General Sani Abacha, rendered outstanding service to our country.
"It is also worthy of note that as Special Envoy on the Implementation of the Abuja Agreement on Zimbabwe in 2001 under my administration as the President of Nigeria; and Chairman, Infrastructure Concession Regulatory Commission under Yar'Adua's administration in 2008, he was forthright, dedicated and showed great patriotism in the discharge of his duties.
"He was a unifying force for the nation and his contribution to the growth and development of democracy in Nigeria cannot be forgotten in a hurry. In all situations, he lived nobly and he died in nobility. He was an achiever.
"Indeed, Chief Shonekan died at a time the country is in dire need of his leadership, wealth of experience and wisdom to tackle the multifaceted challenges facing the nation," Obasanjo said.
In his condolence message, former President Goodluck Jonathan said Chief Shonekan was a peacemaker and bridge builder who left enduring legacies.
"As a leader, Chief Shonekan was well respected because of the enormous goodwill he brought into governance.
"He was a compassionate and determined administrator, a peacemaker and bridge builder who stepped in to lead the nation at a very difficult time in the history of its political evolution," Jonathan said.
Born on May 9, 1936, Shonekan was a British-trained lawyer and industrialist.
Shonekan was head of the Interim National Government, which succeeded the regime of disgraced military dictator, Ibrahim Babangida.
After Babangida "stepped aside", Shonekan was in charge of the government but was in office for only three months before he was ousted by another military dictator late Sani Abacha.
Chief Shonekan also left an indelible footprint in the Nigerian maritime sector having served as the pioneer Chairman of Nigeria's largest container terminal, APM Terminals Apapa.
Copyright Ships & Ports Ltd. Permission to use quotations from this article is granted subject to appropriate credit given to www.shipsandports.com.ng as the source.