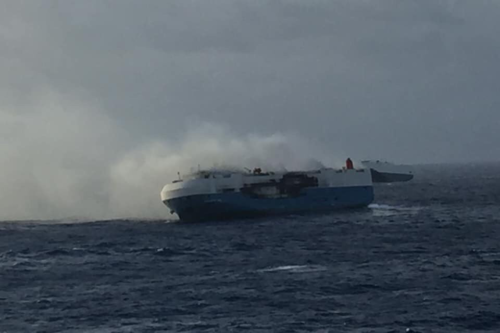 The US Coast Guard (USCG) has suspended the search for the remaining missing crew member from the stricken car carrier Sincerity Ace, while the bodies of four others have been located in the water. 
The abandoned Japanese car carrier owned by Shoei Kisen Kaisha is reported to be listing and still ablaze.
The USCG said it had called off the search for one crew member who remained missing. Vessels in the vicinity had rushed to the aid of the stricken ship after the Master reported a serious fire on December 31, 2018. 16 of the 21 crew onboard were rescued. 
Four other seafarers missing in the fire have been located in the water but were not responsive, and believed to be dead. 
"Four missing mariners were located but remain in the water as they were unresponsive and unable to react to life-saving equipment," the USCG said in a statement.
This is even as search for the remaining missing seafarer has been suspended and the coast guard issued an Urgent Marine Information Broadcast Notice to Mariners requesting vessels transiting the area to keep a sharp lookout for the remaining crew member
"Following the conclusion of morning and afternoon searches by our aircraft and commercial vessels we suspended the active search. This is always a difficult decision and takes many factors into account," said Chief Petty Officer Dennis Vetrano, with Coast Guard Joint Rescue Coordination Center Honolulu. "We extend our condolences to the families and loved ones of the crew members affected by this tragedy."
Shoei Kisen Kaisha is coordinating with the vessels that rescued for the surviving crew for their transport to the next port of call.
The Japanese owner and manager has contracted tugs which are expected to arrive on the scene in a few days and they will make attempts to recover the four crew members that are at sea.
The abandoned vessel is reported to remain adrift, listing to starboard and ablaze. The fire broke out on the Sincerity Ace 1,800 nm northwest of Oahu
The Coast Guard, Navy, and five merchant vessels conducted a total of 13 searches covering 5,544 nm sq over a span of three days.
"We are very grateful for the assistance the crews of these vessels have given during the search and rescue efforts," said Vetrano. "These crew members went out of their way to aid their fellow mariners, and because of the remoteness of the incident the outcome may have been very different had they not responded."  
Copyright Ships & Ports Ltd. Permission to use quotations from this article is granted subject to appropriate credit given to www.shipsandports.com.ng as the source.