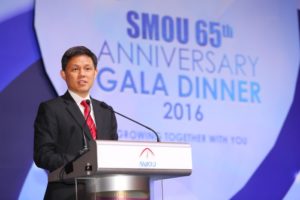 The Singapore Maritime Officers Union (SMOU) is launching a SGD300,000 ($210,868) scheme to help subsidise hotel rooms for officers when they sign off in the republic.
The scheme launched on Friday at the 65th anniversary dinner of SMOU covers 6,000 subsidised hotel rooms over a two-year period and covers shipping companies that have collective agreements (CAs) with the union.
SMOU said that the scheme would both provide some financial relief for shipowners needing to pay for lodging for their officers when in Singapore for sign on/off and also assures the welfare of seafarers is not comprised in these tough times.
"The current shipping industry is facing some headwinds and is going through a cyclical downturn. Therefore, it is important that our union continues to rally around and proactively come up with creative and yet practical ways to help the shipping companies overcome this tough period," commented Mary Liew, general secretary of SMOU."
"In fact, earlier this year, SMOU announced a SGD1.5m one-off contribution to the shipping companies who have CA with us so that they can continue the shipboard welfare and training for the seafaring officers."
William Tan, director of Tai Chong Chiang Steamship said, "This subsidy comes as a welcome move amidst the
Copyright Ships & Ports Ltd. Permission to use quotations from this article is granted subject to appropriate credit given to www.shipsandports.com.ng as the source.