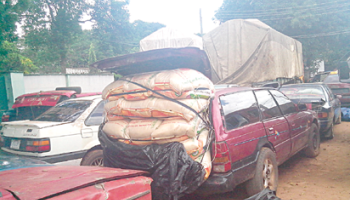 The Nigeria Customs Service (NCS) has dismissed claims that the differential in cost of cargo clearance at the nation's ports and ports of neighbouring countries is responsible for cargo diversion.
Speaking in a chat with SHIPS & PORTS DAILY at the weekend, Customs spokesman, Joseph Attah said the main reason why some importers choose to divert their cargoes is to have them smuggled into the country.
He said, "Let it be clear that this assertion can only be true if the target market for the import is that country. If not, it is not true.
"You cannot import through a neighbouring port, pay their taxes there and if your target market is actually Nigeria, which in most cases it is the case, you cannot pay the taxes there, bring it into Nigeria, pay the appropriate Customs duty and still say it is cheaper to import from neighbouring ports.
"If you add the taxes you pay in that country and the appropriate Customs duty you we pay here, it will be too much.
"So right from the beginning, the intention is to smuggle; to do what is wrong and break the law of our land because when they smuggle, they no longer pay appropriate Customs duty.
"So when I see fellow Nigerians justifying patronage of neighbouring ports, I say they may not be fully clear about the intentions behind it. It is all about conspiracy of selfish interest group that gang up to ensure that the law of the land is contravened."