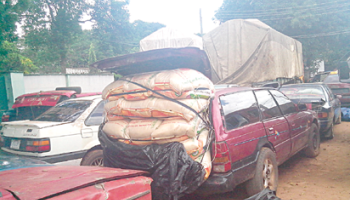 The Rice Millers, Importers and Distributors Association of Nigeria (RIMIDAN) has urged the Federal Government to develop a new policy that will compel the consumption of local rice among its various establishments as part of measures to discourage the importation and smuggling of foreign rice into the country.
The Secretary-General of RIMIDAN, Shuiab Muhammed, told SHIPS & PORTS DAILY in Lagos weekend that rice farmers have increased their production, noting that with the provision of more rice mills, Nigeria will be self sufficient in rice production.
He said, "Let the Army, the Police, Customs begin to buy Nigerian rice officially. The Nigerian Army used to buy rice from Olam in those days, but now, I don't even have their account anymore and I am sure they are no longer buying from any local processor. So what rice are they eating in their cooperative? Smuggled rice. 
"So if government is able to come up with a policy that will compel them to only buy Nigerian rice, then the incentive will not be there for the smugglers anymore. They will not be able to sell it the way they are doing today. If we are able to help these formal establishments, and they see it as part of their corporate social responsibility to buy Nigerian rice, the market will die naturally for smugglers.
"We have enough rice in the country to take care of our need, so we don't need to import. There is no part of the country that does not produce rice. We may need to build a few more mills but I am convinced we can feed ourselves with rice.
"Few years back, there was a supply gap but production has really gone up now. Our consumption is seven million but right now, we are producing close to 5.5 million. It is the smuggled rice that is creating the extra two million but with the necessary support from government, we can bridge the gap," he said.
On the proposed closure of land border, Mohammed said while the pronouncement by the Minister of Agriculture, Audu Ogbeh, scared smugglers temporarily, it is a tough call, which may be difficult to implement. 
According to him, "Aside rice, we also need the border to sell some other produce. For example, in the Agbara axis, there are lot of biscuits making companies in that axis, and these biscuits they take to Benin Republic to sell. So government has to do some balancing so that you don't just close border because of rice coming in and we also loose other businesses."