Somali pirates who raked in millions of dollars in ship hijackings have developed a lucrative new racket – acting as armed "escorts" to foreign trawlers that steal the country's fish.
In a striking case of poacher-turned-gamekeeper, the same armed gangs who once preyed on the trawlermen are now acting as their bodyguards, earning huge "protection fees" in return for letting them poach Somalia's rich fishing stocks.
Fisheries experts have warned that many of the fishing vessels are using huge illegal nets, causing potentially enormous damage to the country's marine ecosystem.
For the pirates, the new racket offers a much-needed source of income after the hefty revenues that they used to extort through hijacks all but dried up.
"It is ordinary Somali fishermen and the ecosystem that are losing out."
Between 2005 and 2011, they earned an estimated $300m in ransom payments, but from around 2012 onwards, ships passing through the pirates' hunting grounds began routinely using armed guards, making them much harder targets.
The new protection deals are brokered through Somali middlemen operating in the Gulf countries, who offer "licences" to foreign fishing firms, often with the connivance of corrupt Somali government officials.
While most of the licences have little or no legal basis, the foreign firms will often pay hundreds of thousands for safe passage into Somali waters, given that they are rich in tuna and other valuable fish.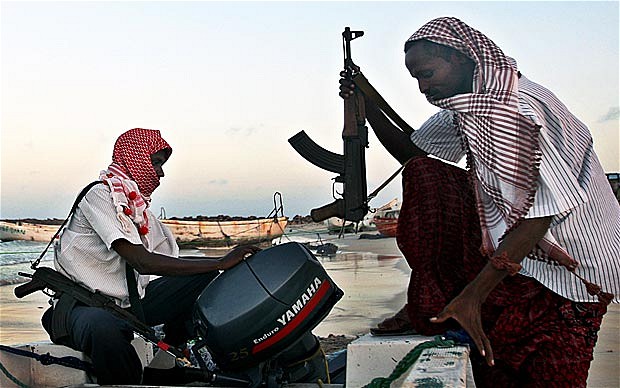 "During that time we saw 10 illegal tuna driftnetters working very close inshore," the official said. "It is a really bad problem, and it is ordinary Somali fishermen and the ecosystem who are losing out. The nets are illegal under international law, and kill large quantities of turtles, sharks and dolphins. The vessels are guarded by Somali militia, and are fuelling conflict, through bribes being paid, damage to livelihoods in fishing communities and the import of weapons."
He added that one of these illegal nets had entangled in the propeller of the Italian naval escort vessel that was present on the mission, causing it to drift for several hours before divers were able to cut it free.
Somali government officials estimate that up to 180 Iranian vessels visit their waters every year. They catch far more fish than ships from Somalia's own fledgling fishing industry, who are often forced away at gunpoint by the militias guarding the foreign intruders.
"We asked the fishermen to help us document who was doing what but they were too scared to do so," said the UN official.
Ironically, anger at illegal poaching was the spark for the original Somali piracy crisis nearly a decade ago, when gangs of armed Somali vigilantes began hijacking marauding fishing vessels in revenge.The fear is that anger at the new wave of illegal fishing could lead to fresh hijacking attempts.
In late November, an Iranian fishing vessel, the Muhammidi, became the third Iranian ship to be hijacked this year, a pirate gang seizing its 15-strong grew close to the notorious pirate town of Eyl.
It is unclear whether the Iranian hijackings were cases of straighforward piracy or cases where an existing "protection deal" had fallen foul of inter-clan feuding.
However, fisheries officials fear the competition for illegal licence cash is likely to fuel clan tensions. "This may be only for a few hundred thousand dollars but it has the potential to destabilise the government," said one.
John Steed, a former British military attache to Kenya who now works with Oceans Beyond Piracy, which helps sailors who have been held hostage, added: "The fear is that there is a whole bunch of illegal fishing going on that is prompting the pirates to attack them, which is what started the whole piracy problem in the first place."
Steve Trent, the executive director of the UK-based Environmental Justice Foundation, said that the multi-national naval force deployed to fight piracy off the coast of Somalia should extend its remit so that it could stop and detain vessels suspected of illegal fishing. At present it has no mandate to do so.
"It is simply daft that they are not using those collective naval assets to ensure an effective fisheries management regime," Mr Trent said. "If you imposed a strong fisheries enforcement regime you would solve a great deal of problems here, as piracy and illegal fishing are closely interlinked, and the sense that their waters are being illegally plundered nurtures the feeling of grievance that many Somali fishing communities have."
Source: The Telegraph
Copyright Ships & Ports Ltd. Permission to use quotations from this article is granted subject to appropriate credit given to www.shipsandports.com.ng as the source.