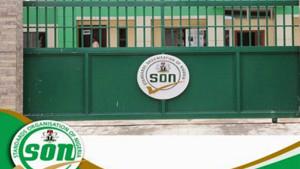 The Director General of the Standards Organisation of Nigeria (SON),  Osita Aboloma, has reiterated his agency's commitment to promoting the ease of doing business among local industries in the food and beverages sector by exempting them from payment of some service charges among other concessions.
Aboloma, who stated this during the visit of the Acting Director General of the National Agency for Food and Drug Administration and Control (NAFDAC), Yetunde Oni to his office earlier in the week, insisted that the agency is supporting the growth of local industries in the various sectors of the nation's economy through the diligent application of standards and quality assurance programs.
According to him, once the industries show evidence of registration with NAFDAC, they get concessions ranging from exemption from service charges, product registration fees to waivers in importation of raw materials and machinery.
Aboloma added that the SON has a signed Memorandum of Understanding (MoU) with the Manufacturers Association of Nigeria (MAN) detailing concessions to bonafide members of the Association.
He stressed that the document is currently undergoing review by a joint committee of the two organizations to reflect current realities of the nation's economy.
He emphasized the need for SON and NAFDAC to improve on the synergy between the two agencies in order to actualize Vice President Yemi Osinbajo's directive for them to certify Micro, Small and Medium Enterprises (MSEs) throughout the country within two months of receiving applications from them.
Speaking earlier, the NAFDAC chief commended the enormous collaboration between the two agencies and appealed for proper handling of areas of overlap in functions in the interest of the nation's economy.