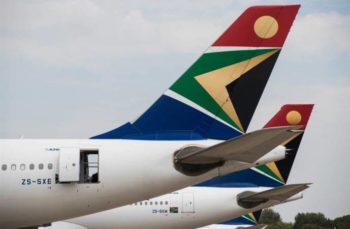 Six months into the job of running loss-making South African Airways, Chief Executive Officer, Vuyani Jarana, is mapping out a punishing austerity plan.
Jarana, who faces the daunting task of turning the flag carrier around, said layoffs and other cuts were unavoidable as he contends with a draining cost-to-income ratio of 108 percent.
"SAA cannot carry the same workforce, whether it is pilots, cabin crew or administration," he told Reuters. "We have to make some tough decisions to save the airline. There cannot be sacred cows when it comes to SAA."
He declined to put a number to the job losses, but two sources familiar with his plan said the state-owned carrier was likely to cut between 1,000 and 1,500 people via a combination of layoffs and voluntary redundancies to bring its employee-per-aircraft ratio in line with regional competitors.
The numbers include roughly 300 flight attendants, according to one of the sources. Some of the carrier's 700 pilots, encouraged to look jobs elsewhere, have drafted their own severance pay offer to SAA, the second source said.
In a dramatic fall from grace over the past decade, SAA has lost its place as Africa's biggest airline and a symbol of patriotic pride to become a source of frustration for taxpayers who have forked out more than R30 billion ($2.3 billion) since 2012 to keep it in the air.
SAA's woes are emblematic of the struggles of traditional flag carriers around the world, such as Malaysia Airlines, Air India and Air France-KLM. These airlines are contending with low-cost rivals and a spike in oil prices, which puts pressure on those with the highest labour and other non-fuel costs.
The problems are also an illustration of the malaise afflicting the airline industry in Africa, whose airlines have the weakest finances and emptiest planes of any region of the world.
Jarana told Reuters he was also setting up other moves to reduce the airline's R33.5 billion operating costs. They include squeezing suppliers for better deals and cutting back on its number of flights to London from twice to once a day.
The carrier makes its biggest losses on the London route because it faces fierce competition that expose its inefficiencies.
"My view is that the starting point to getting out of the hole is to stop digging, you stop doing the things that sink you deeper into trouble," Jarana said in his office near O.R. Tambo International Airport in Johannesburg.
Although the global industry is looking at another profitable year in 2018, much of the money is in the United States where legacy carriers have been through years of restructuring.
Africa is the weakest region of all, with airlines struggling to improve load factors – percentage of seats filled – from the world's lowest level of 61.5 percent in 2018, compared with 81.7 percent globally, according to International Air Transport Association forecasts.
SAA employs just over 10,000 people and has 64 aircraft, putting its employee-per-plane ratio at 160. That compares with just over 130 employees per aircraft for Ethiopian Airlines, which has overtaken SAA to be become the biggest airline by revenue and profit in recent years.
However, the ratio is below 190 employees per aircraft at Air India, a debt-laden and loss-making carrier that last month failed to attract a single bidder for the government's 76 percent stake.
Despite carrying roughly the same number of passengers annually – around 10 million – Ethiopian Airlines makes more than $200 million annual profit while SAA extended its losing streak to the sixth year in 2017 when it suffered a hefty $400 million loss.
Ethiopian Airlines has bucked the African trend and has been expanding fast, thanks in part to a geographical position that enables it to serve as a hub in competition with Gulf carriers and to a young, modern fleet.