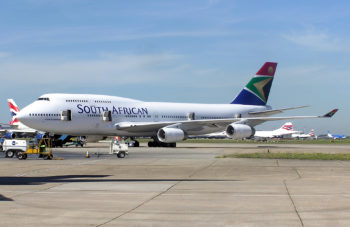 Losses at South African Airways (SAA) are set to widen to 4 billion rand ($292.86 million) in 2017/18 from a previous estimate of 2.8 billion, the state airline's Chief Financial Officer said, piling further pressure on government finances.
Last week, SAA said even with a government injection of 10 billion rand, the struggling airline will remain under-capitalised with a negative equity position of over 9 billion rand.
Chief Financial Officer, Phumeza Nhantsi told parliament's finance committee on Wednesday that the higher projected losses for 2017/18 were related to the retirement of five leased narrow-body aircraft, which meant flights had been cancelled and planes grounded.
SAA's CEO,Vuyani Jarana, said the airline had outstanding debt of 13.8 billion rand ($1.01 billion) as of this month and that it needed to pay back domestic lenders and U.S. bank Citi 4 billion rand by March 2018.
"The biggest challenge at SAA is the capital structure as well as the commercial strategy. If we are able to fix that we will be able to get SAA back on its feet," Jarana said.
SAA has been relying on government guarantees to keep it solvent and has been cited by major rating agencies as a threat to South Africa's economy. It received the latest bailout in September.
Agency Report