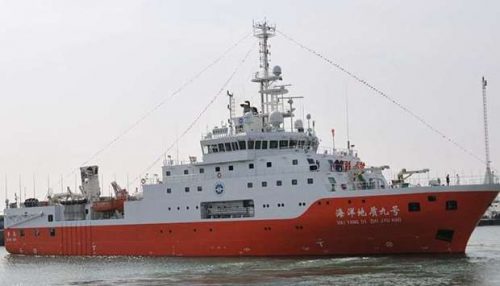 A Chinese oil survey vessel that has been embroiled in a tense standoff with Vietnamese vessels in the South China Sea left Vietnamese-controlled waters on Thursday after more than three months, marine data showed.
The Chinese vessel, the Haiyang Dizhi 8, was speeding away from Vietnam's exclusive economic zone towards China on Thursday under the escort of at least two Chinese ships, according to data from Marine Traffic, a website that tracks vessels.
China claims almost all the energy-rich waters of the South China Sea but neighbors Brunei, Malaysia, the Philippines, Taiwan, and Vietnam also have claims.
The tension between Hanoi and Beijing escalated when China sent the vessel to conduct seismic surveys in waters off Vietnam in early July.
The foreign ministry in Hanoi has repeatedly accused the vessel and its escorts of violating Vietnam's sovereignty and has demanded China remove its ships from the area. The ministry did not immediately respond to a Reuters email seeking comment on Thursday.
The vice-chairman of China's Central Military Commission, Xu Qiliang, called for dialogue this week at a meeting with Vietnam's Defense Minister Ngo Xuan Lich in Beijing to address the complex global and regional situation, the official Vietnamese News Agency reported on Wednesday.
It quoted Lich as saying that the joint efforts of all countries could help to cope with common security challenges.