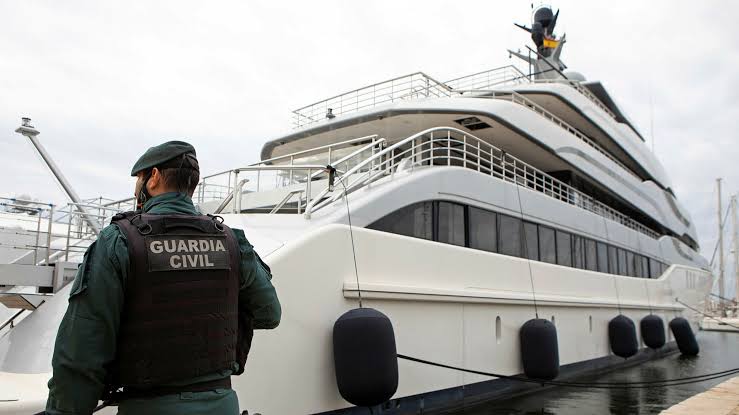 Spanish authorities have seized a luxury yacht owned by sanctioned Russia oligarch Viktor Vekselberg at the request of the United States.
The seizure marks the first instance of the United States seizing an asset belonging to a sanctioned Russian oligarch since Russia's invasion of Ukraine.
"It will not be the last," said Attorney General Merrick B. Garland. "Together, with our international partners, we will do everything possible to hold accountable any individual whose criminal acts enable the Russian government to continue its unjust war."
The 255-foot M/Y Tango, which is believed to be worth $90 million, was seized in Mallorca following a request from the U.S. Department of Justice.
The seizure warrant, filed in the U.S. District Court for the District of Columbia, alleges that the Tango was subject to forfeiture based on violation of U.S. bank fraud, money laundering, and sanction statutes.
Separately, seizure warrants obtained in the U.S. District Court for the District of Columbia target approximately $625,000 associated with sanctioned parties held at nine U.S. financial institutions.Those seizures are based on sanctions violations by several Russian nationals.
According to the U.S, Vekselberg used shell companies to obfuscate his interest in the Tango, which he allegedly bought in 2011, to avoid bank oversight into U.S. dollar transactions.
Vekselberg was previously sanctioned by the U.S. Treasury Department in April 2018 related to worldwide "malign activity" by the Russian government, including Russia's occupation of Crimea, support of the Assad regime, cyber attacks, and efforts to interfere in Western democracies.
The warrant alleges that Vekselberg and those working on his behalf had continued to make U.S. dollar payments through U.S. banks for the support and maintenance of the Tango and its owners, including a payment for a December 2020 stay at a luxury water villa resort in the Maldives and mooring fees for the yacht.
"Today's action makes clear that corrupt Russian oligarchs cannot evade sanctions to live a life of luxury as innocent Ukrainians are suffering," said Deputy Attorney General Lisa O. Monaco.
"Today the Department of Justice delivers on our commitment to hold accountable those whose criminal activity strengthens the Russian government as it continues to wage its unjust war in Ukraine. That commitment is one we are not finished honoring."
The seizure was coordinated through the Justice Department's Task Force KleptoCapture, an interagency law enforcement task force dedicated to enforcing the sweeping sanctions and other measures in response to Russia's military invasion of Ukraine.
"The seizure of this luxury yacht demonstrates our determination to hold accountable those who support Vladimir Putin's unwarranted invasion of another sovereign nation," said U.S. Attorney Matthew M. Graves for the District of Columbia.
"We will continue to use every tool to enforce the sanctions aimed at Putin's regime and the oligarchs who support it. Working with our federal and international partners, we will be unflagging in our efforts to bring to justice those who violate these sanctions, and to seize assets where appropriate and lawful."
Copyright Ships & Ports Ltd. Permission to use quotations from this article is granted subject to appropriate credit given to www.shipsandports.com.ng as the source.