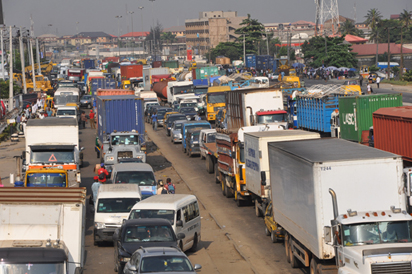 Truck drivers plying the Apapa Wharf road yesterday lamented the harrowing experience they endure daily to enter or exit the Apapa and Tin Can Island ports in Lagos. The two ports have practically been paralysed in recent days over unyielding gridlocks on the Ijora-Wharf and Apapa-Oshodi expressway due to the severely damaged state of the federal roads. 
The truck drivers, who spoke in separate interviews with SHIPS & PORTS DAILY correspondent while being held on the long queue, said they spend as much as three to four days on the Ijora-Wharf road enroute to the Apapa port, which is a distance of about two kilometres – a journey that should normally take less than five minutes. 
They said they wash on the road, eat from hawkers and answer the call of nature on the curbs. 
The truckers also accused police officers attached to the Area 'B' Police command of extortion. According to them, while several appeals to government to fix the roads have fallen on deaf ears, the police and other security agencies have taken advantage of the situation, demanding huge bribes from them at various points.
Lamenting the sufferings they go through, one of the truck drivers, Anas Abubakar said, "The bad road is what is causing the traffic. I have spent three days here just to pick a consignment at the port. We want government to fix the road so that we can easily go to wharf and drop our containers. The suffering is too much for us. The police and army also collect money from us."
Another truck driver, Ademola Adebayo appealed to the government to fix the bad road to ameliorate the plight of commuters. 
"The bad roads are the major cause of the traffic. If those leaving the port do not have chance to come out, we that are going in can't also go in. We are appealing to the government to repair the road. If the road is ok, there will be free flow of movement and there won't be traffic. We eat from hawkers and bath on the road on a daily basis,"
On his part, Ali Sefiu, who said he had spent about four days on the road, said, "Every day, we have been begging government to fix the road but all the appeal is falling on deaf ears. The roads are bad, the government refuse to fix it and police also extort us on daily basis."    
Copyright 2017 Ships & Ports Ltd. Permission to use quotations from this article is granted subject to appropriate credit given to www.shipsandports.com.ng as the source.