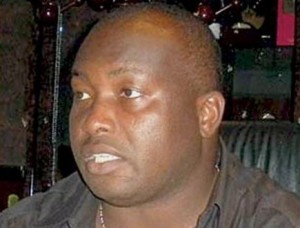 The State Security Service (SSS) has approached a Federal High Court, Abuja, to detain the chairman of Capital Oil and Gas Ltd, Ifeanyi Ubah, for another 14 days pending the completion of its investigation, counsel to the businessman told a federal court in Lagos on Friday.
The Lagos division of the Federal High Court had, on Tuesday, ordered the secret police to produce  Ubah in court on Friday.
But at the resumed hearing, Ubah's lawyer told the court that "the applicant has not been produced, rather we were served this morning with a notice of preliminary objection and a counter affidavit to the application itself being filed yesterday."
"After your lordship's order on the 9th of May, 2017, the 4th and 5th respondents went before the FCT High Court on the 10th of May and obtained an order to detain him for 14 days in other to complete their purported investigation," he said.
Delivering his ruling, Justice Mohammed Idris said he would act with "great caution" in the matter.
"I will not make an order for the release of the applicant pending the completion of the 14 days," he added.
The judge adjourned till May 18 for continuation of the matter.
The SSS had arrested  Ubah over allegations of "economic sabotage" and diversion of petroleum products to the tune of N11 billion, a claim the business mogul denies.