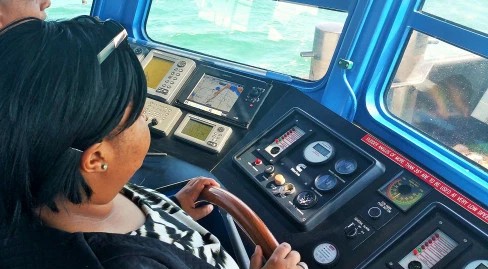 Industry stakeholders have called for a redefined maritime policy by the Federal Government to encourage more women participation the maritime sector.
The stakeholders, who spoke at the annual conference of Women in Maritime Africa – Nigeria branch in Lagos on Tuesday, with the theme "Empowering Women for Effective Participation in the Maritime Sector", were unanimous in their submission that women must begin to change the narrative to take their rightful place in the industry.
Making a case for inclusion of more women in the industry, a former Director in charge of training, Nigerian Navy, Capt David Ogar, said without a defined maritime policy and improved political will on the part of government; it will be difficult to empower women in the industry.
"If we don't have a defined maritime policy, it will be difficult for us to have a vision to pursue. It will be difficult for us to have strategy of empowering women. We need to clamour for a redefine maritime policy involving women. There is need to improve political will on maritime related issues as it concerns women. There is need to encourage equality and merit. If a woman can come first in academy, that woman can be chief of naval staff. If I beat you academically and professionally, I should be able to head you," he said.
While canvassing for the re-establishment of the national shipping line to train young cadets, Capt. Ogar also urged the government to address the challenge of maritime security to create the enabling environment for women desirous of pursuing a career in the maritime sector.
"There should be a re-establishment of national shipping line. The extinction of the national shipping line has affected so many things about the maritime sector. If we don't have the vessels, we will have nowhere to put our girls.
"There is need to address maritime security. Women are very sensitive we cannot just push them to sea. With the situation in the nation's maritime environment, we cannot empower women because women are very sensitive, so we need to create more maritime security for women to be involved," he said.
The Managing Director of Apapa Bulk Terminal Limited (ABTL), Capt. Marvin Abe, lamented the level of discrimination against women in the industry and called for more attention to stop the practices. He also advocated that women in the industry should be accorded the opportunities not only based on gender but merit.
"We need to begin to change the narrative. As organization like WIMA comes together and try to encourage young ones, I will encourage WIMA to identify those influential in the society who can then change the narrative," he said. 
In her contribution, the Minister of State for Transportation, Sen. Gbemisola Saraki, said the adoption of WIMA Nigeria to the maritime strategy of 2050 focused on building Africa's blue economy was apt. 
Saraki, who was represented by Head, Human Resources, Nigerian Maritime Administration and Safety Agency (NIMASA), Aisha Musa, pointed out that the blue economy was an integral and evolving area of sustainable development.
She said to achieve this, there is need to focus on providing platform for training, capacity building, corporate and entrepreneurial development of African women in the maritime sector.
Earlier in her address, the President WIMA Nigeria, Bola Muse, urged the government to work with her group to come up with policies and programmes that will accelerate gender equality and empowerment of women in the maritime sector as well as improved welfare packages and working conditions for seafarers in line with the provisions of the Maritime Labour Convention (MLC), 2006.
She said it is also imperative that stakeholders in the maritime community commence an aggressive campaign to encourage more female participation in seafaring and maritime trade to replace the ageing professionals.
This, she said, will increase the talent pool of both soft and hard technical skills that women bring to the table from managerial roles to seafaring and freight forwarding.