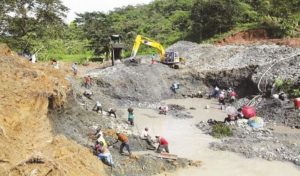 The Federal Ministry of Mines and Steel Development on Tuesday said it had secured approval for the payment of 13 per cent derivation from mining revenue to the 36 states of the federation.
The Permanent Secretary in the ministry, Alhaji Abass Mohammed, who disclosed this during a two-day stakeholders' workshop in Benin, Edo State, explained that the approval was part of efforts to improve the states' participation in the mining sector.
Mohammed said that the ministry was collaborating with state governors to revive the sector after 45 years of decline in order to support the Federal Government's deliberate policy of fast-tracking the solid minerals sector's development in a sustainable way.
He noted that the partnership would be achieved through the development of a sound process of long-term vision and strategic action plan in line with international best practices.
Mohammed explained, "We have rightly identified as one of our priorities the need to improve our engagement of stakeholders at the sub-national level, particularly state governments and the communities.
"We realise that in order to give the states good reasons to work with us, we need to create avenues for a greater degree of financial participation and revenue sharing."