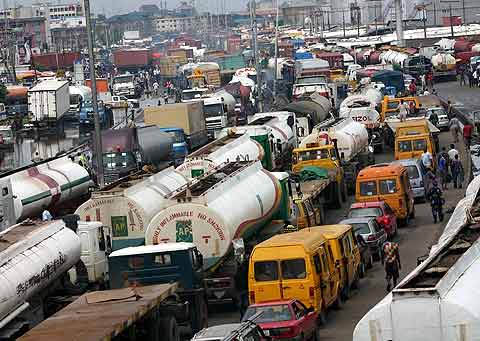 The current traffic gridlock strangling Apapa, the busiest port area in Nigeria is a serious threat to the socioeconomic wellbeing of Nigeria. It is a worm that has slowed down distribution of goods nationwide, increased crime in the port area, and eaten deep into the manhours of staff in many maritime-dependent businesses.
So serious is the situation that industry sources estimate the amount of revenue lost each day to the gridlock to be in the billions. Even a big organization like Customs is not left out of the groaning as various sources connected with it have said that Customs is not going to meet its target for the year as a result of a slump in ports activities this year.
For people who work in Apapa, getting to work has become a daily ordeal. Commuters that own cars now have no choice but to park their cars outside Apapa and trek in to the area; or if the distance to their workplace is still far, they are forced to board the dangerous commercial motorcycles popularly known as Okada. Those that stick to their principles of not patronizing that very very unsafe mode of transport have reported that they face an increased risk of losing their jobs as they sometimes find that they have arrived their place of work several hours after resumption time, which brings them into job-threatening conflict with their bosses. So, daily they are faced with a risk of losing limb onboard Okada or livelihood as a result severe lateness.
Expectant mothers also face their own risks as a result of the worsening gridlock, especially if the hospital where they're registered to give birth in is not in their most immediate vicinity.
These days, people who have businesses to transact in Apapa find themselves strategically procrastinating about going there, as movement there can be super stressful.
But the funny thing, or rather the sad thing is that in spite of the efforts taken so far to tackle it, the gridlock shows no sign of loosening its severe chokehold on Apapa and is beginning to take the shape of a permanent feature of life in Apapa – and you know, if paralysis of the nation's busiest maritime area becomes permanent, then… hmm.
Causes
First of all, you have the issue of extremely poor state of the access roads to the ports. The roads leading to the ports, like Wharf Road are in a very poor state, and hardly a day goes by without one tanker or truck or another falling on its side and bringing traffic to a standstill until the towing trucks manage to navigate their way through the gridlock already caused to rescue the cause of the gridlock itself. The roads get much worse after heavy rainfall as all vehicles are forced to use only the none-flooded portions of the roads.
But by far the more serious cause of gridlock in the Apapa area is the presence of over 58 crude petroleum product tank-farms in the port area. Since Nigeria began to import fuel in a bid to ameliorate the effects of our comatose government-owned refineries, tank farms have blossomed in Apapa. Now that is not a bad thing in itself, but when you have such huge concentration of them in an area that was originally meant just for ports, you begin to have serious problems. So, in addition to the trucks ferrying goods from the ports, you have thousands of petrol tankers gathering at tiny Apapa from all parts of the country to ferry fuel.
As a result of the hiccups in fuel importation, with marketers unwilling to stuff these tankers with fuel until they are paid the money they are being owed by the government, the tankers have to wait. And since the tanker drivers cannot carry the tankers in their heads, where do they wait? The tanker park currently allocated to them is too far from the tank-farms, so the drivers convert the port area bridges and roads into temporary (or rather permanent) parks.(And those bridges were not built to take the weight of parked heavy duty vehicles for too long.)
Now this is what leads to serious gridlock. The cars and other vehicles have no way to pass if say, one tanker parks wrongly and blocks a bridge, so what Lagosians call go-slow begins to develop. Lagos State Governor, Akinwumi Ambode has even waded into the matter, taking a tour of some of the affected areas. He has asked the tankers to leave the access roads, and he has called for a permanent solution to the issue.
For gridlock caused by tank-farms to disappear, the Federal Government has to stop charging exorbitant fees for giving operational licenses to businesses that want to establish private refineries in Nigeria. I like what Former Deputy President of the National Union of Petroleum and Natural Gas Workers (NUPENG) Eddy Ossai said recently on the matter. He said;" Government should not give license for building of refineries; what government should give is permit to people that want to build refineries that is based on environmental impact assessment, technical capabilities and financial resources. Those that should evaluate the claims and award should be tender boards constituted for that purpose."
A lot of private businesses that initially wanted to establish refineries lost interest in large part due to the fact that they have to pay several exorbitant fees that to their pockets would have been a strain. But if the Federal Government were to lessen or totally remove these fees, and reduce the red tape involved in getting approval, the private refineries that will crop up all over the country will make the tank-farms quickly leave Apapa or otherwise become redundant. The day private refineries are given cheaper fees and better conditions to enable them freely establish in any part of the country, Apapa gridlock as we know it would become a thing of the past. The Federal Government should loosen its hold.
Copyright Ships & Ports Ltd. Permission to use quotations from this article is granted subject to appropriate credit given to www.shipsandports.com.ng as the source.