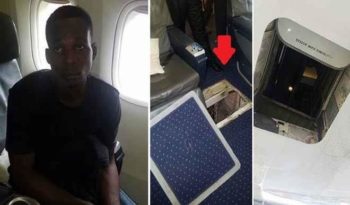 A boy identified as Emmanuel Ugochukwu who managed to place himself between the front wheels of a Med-View aircraft from Lagos to London has come back alive.
A spokesperson of The Med-View Airline Chief Obuke Oyibotha said the airline was collaborating with the Police and other security agencies at the Murtala Mohammad International Airport (MMIA), Lagos, to investigate the incident.
It was learnt that the stowaway got on the plane on Saturday but many expressed shock as to how the boy survived the over six-hour flight in the wheel compartment of an aircraft cruising at an altitude of 32,000 feet above sea level.
Spokesman of the Lagos Airport Police Command DSP Joseph Alabi said he had not been sufficiently briefed about the incident as at the time of filing the report.