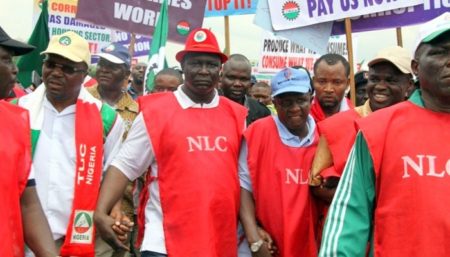 Nigeria is the world's poverty capital, where 152 million people live on less than $2 per day. This is at a time when the national minimum wage in the United States is $1,047 a month, the European Union at 1,999 Euros per month and closer home to Africa, $174 and $155 monthly in Egypt and South Africa respectively.
According to the International Labour Organisation (ILO), minimum wage is the minimum amount of remuneration that an employer is required to pay wage earners for the work performed during a given period. This amount cannot be reduced by collective agreement or an individual contract. A nearly universal policy instrument that applies in more than 90 percent of ILO member-states, including Nigeria, the ILO states that minimum wage must have a legal backing and be enforceable under threat of penal or other sanctions. Initially conceived as a measure to protect vulnerable workers, minimum wage applied to relatively few categories of workers. The first recorded implementation of minimum worldwide was in Australia in 1894.
In Nigeria, the concept of a structured minimum wage was born in 1981. This was during the tenure of the first President of the Nigeria Labour Congress, Hassan Sunmonu. Nigeria's political rulers at the time had awarded themselves a pay rise much to Sumonu's dismay. This culminated in an agitation for a minimum wage of N300 monthly and after a major strike, which lasted two days, the ShehuShagariadministration began negotiations with Sunmonu, arriving at a N125 minimum wage monthly. Eight years later, another round of negotiations began during the tenure of late Pascal Bafyau as NLC President. These negotiations, which were led on the side of labour by Bafau's deputy, Adams Oshiomole, resulted in a N250 per month pay. When AbdusalamiAbubakar became military Head of State in 1998, a committee of industrial unions agitated for wage increase. The committee, led by SlyvesterEjiofor, was able to negotiate a minimum wage of N3,000 monthly.
Negotiations for a minimum wage took a different turn when Adams Oshiomholebecame NLC president. It was agreed that state and federal workers would receive a minimum wage of N5, 500 and N7, 500 monthly, with a caveat that there would be a 15 percent increase across board in 2002 and a 25 per cent increase in 2003. The Federal Government however never honored the latter part of the agreement.
In 2010, a bill on the national minimum wage amendment was proposed to the National Assembly. Sponsored by the Justice Alpha Belgore Committee, the bill recommended a review of minimum wage once every five years by a statutory tripartite committee appointed by the president. This bill, passed into law by both chambers of the National Assembly, has yet to be implemented by the Federal Government. In fact, the present minimum wage of N18,000 is reported to have been due for a review since 2015.
In the last two years, the tune has changed from minimum wage to a living wage. Due to an economic recession that saw millions of Nigerians lose jobs and others take pay cut, labour had at first negotiated an increase from N18,000 to N56,000. This is because at N18,000, Nigeria is ranked among the low-income paying nations of the world. In addition, the N18,000minimum wage was negotiated at a time when the exchange rate was N110 to the dollar. Presently a dollar exchanges for N360.
Vice President of the NLC, Comrade IssaAremu, justified agitation for the increase thus: "I cannot reconcile the inability to pay a minimum of wage of N56,000especially from the state governments since many state governors find resources to meet lousy obligations such as paying their predecessors undeserved salaries".
Taking into account the depreciating value of the naira against the dollar, rising inflation and consumer price index, the NLC described its N56,000 proposal as a living wage. This, according to the Cambridge Dictionary, is a wage that allows one to buy the things that are necessary in order to live, such as food, clothes and shelter. Unfortunately, after series of negotiations with the Federal Government and private sector employers, the NLC capitulated in its agitation and the proposed living wage was reversed to a minimum wage pegged at N30,000.
The Organised Private Sector (OPS) had also, under the aegis of the Nigeria Employers Consultative Association protested the proposed living wage of N56,000. Citing poor economic indices and recession, NECA Director-General, OlusegunOsinowo, said its members' businesses had been negatively affected. Now, even with the sizable concession by the NLC, it is at a deadlock with the Federal Government, who insists on N24,000. This leaves the country on the verge of another nationwide strike scheduled for November 6.
Despite the foot dragging by the Federal Government and the backlog of salaries still being owed by about 15 states of the federation, the biggest defaulter of the national minimum wage has been the OPS. At a meeting State House Press corps in 2017, Vice President YemiOsinbajohad accused the OPS of flouting the minimum wage. Citing the case of media houses, he said, "Remunerations are generally poor in the country, but the case of journalists is unique because many media owners are making the revenues but simply refusing to pay journalists better as and when due. There are a few reasons in my view why remuneration is poor, especially for those in the media. It is just simply cheating; there are media owners that are just cheats. They just want to get something from nothing. This is not uncommon and is a general malaise. It is the same in the legal profession."
The only exception to the Labour Act of 2004 which sets the standard for the minimum amount a worker in Nigeria is expected to earn are companies that employ fewer than 50 workers. Such companies are not bound by the Nigerian minimum wage. However, with the Federal Government struggling to way minimum wage and the state governments, barely able to keep up, enforcing same on the private sector is mere wishful thinking.
Nigeria has more to gain by instituting a living wage. First, increase in wages creates a corresponding increase in wealth for those who are able to deploy their extra income efficiently. Second, a living wage would stimulate improved productivity in the public and private sector as a result of job satisfaction. An employee enjoying an improvement in basic living conditions would naturally translate this to his or her productivity. Lastly, it would help check the emigration of skilled workers to developed economies; this has been on the increase especially with the recession. At the 36th Faculty Day Lecture, National Postgraduate College, Lagos, last month, a university don, Professor Christopher Obionu said this much when he observed that 50 percent of Nigeria-trained doctors were had emigrated and were practicing overseas.
Digging up reasons why the minimum wage cannot be reviewed by government both at the state and federal levels will do nothing to stifle the growing demand for a better remuneration by Nigerian workers. It is expected rather that the government adopts the proposed wage, and construct mechanisms to shore up its internally generated revenue to meet this responsibility.
In addition, the abolition of frivolous and unaccounted expenditure by governments at all levels will also free up funds towards the payment of better salaries to government workers.
The sixth largest oil producing country in the world and the largest in Africa, it is inconceivable that Nigeria cannot afford a living wage for its citizens. Ours is not a problem of scarcity of resources but rather an inability to deploy resources efficiently and effectively for maximum benefit. A foremost economist, Ayo Teriba, summarized this when he said, "Government should find the money for minimum wage; states are in the business of finding money to govern. Increasing the minimum wage to N56,000 is still less than what people earn as unemployment allowance in some countries. As it is now, the minimum wage of N18,000 means that workers earn N600 per day. Nothing can be achieved with N600 per day."
Waiting for labour to bring the already fragile economy to a standstill by way of a nationwide protest is not necessary especially at this time.