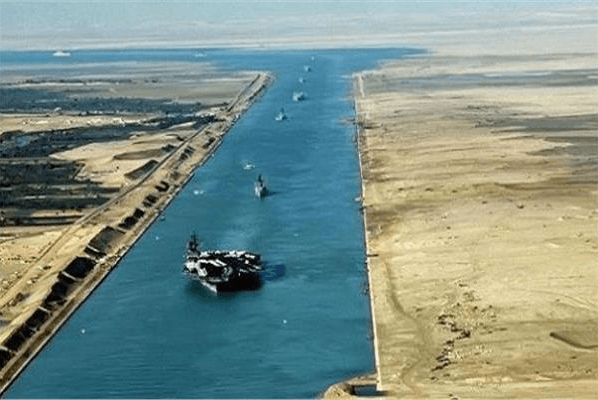 Egypt's Suez Canal revenue saw a record high of 18.2 billion Egyptian pounds ($594 million) in December 2022, according to data released by the Central Agency for Public Mobilization and Statistics.
The figures come after the Suez Canal Authority announced 2022 delivered an all-time annual revenue record for the waterway, earning $8 billion in transit fees.
The income from the canal was about 25 percent higher than the $6.3 billion netted in 2021, following a series of toll hikes to help pad Egypt's siphoned foreign reserves.
The canal is a source of much-needed foreign currency for Egypt, with global investors pulling billions out of the import-dependent economy during the current crisis triggered by Russia's invasion of Ukraine last year.
Annual inflation hit 21.9 percent in December and the local currency has lost around half its value in less than a year in successive devaluations demanded as part of a $3 billion loan agreement with the International Monetary Fund.
Chairman of the canal authority, Osama Rabie, said an average of 93 ships traversed the vital waterway daily during the aforementioned period carrying 1.41 billion tons of cargo.
The official attributed the boom in the canal's traffic to the New Suez Canal project that helped increase the capacity of the waterway to receive giant ships and increased number of vessels.
Rabie said the North African country is steadily working to further expand the canal's navigational course through the southern sector development project, which will improve navigational safety by 28 percent and increase the canal's capacity.
This is in conjunction with the efforts to develop and modernize the fleet of marine units affiliated with the authority and adopt environmentally friendly procedures and policies, he added.
Connecting the Red Sea and the Mediterranean, the canal accounts for roughly 10 percent of global maritime trade and the majority of oil transported by sea.
Tolls were hiked three times last year for vessels traversing the man-made waterway, which is the fastest crossing from the Atlantic Ocean to the Indian Ocean.
Copyright Ships & Ports Ltd. Permission to use quotations from this article is granted subject to appropriate credit given to www.shipsandports.com.ng as the source.