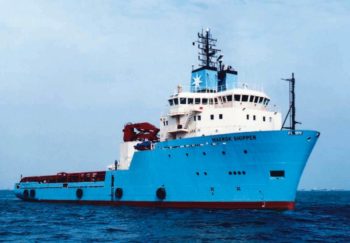 A search team has located the wrecks of two Maersk Supply Service vessels which sank during a tow to a Turkish scrapyard late last month.
The vessels are believed to be leaking some pollutants into the environment. The company has been given until the end of the month to report back on a plan for the vessels.
French officials said Wednesday that the hulls of the former Maersk Searcher and Maersk Shipper were located near the area where they sank on December 22 off the island of Sein.
Observation flights by the French Navy and customs agency have observed a consistent sheen in the vicinity of the vessels, which are located several miles away from each other.
According to France's Maritime Prefect an investigation has showed that each hull holds an average of 100 cubic meters of oil residue, which poses a threat to the environment.
As a result of these findings Maersk Supply Service has been requested to carry out an investigation of the two wrecks to determine the condition of the vessels. The company is required to submit a report to Maritime Prefect by February 1 detailing the results of the investigation and an any actions that may be necessary to prevent damage to the environment.
The Maersk Supply Service vessels, Maersk Searcher and Maersk Shipper, were unmanned when they were lost during a tow to a Turkish ship yard for recycling. The two vessels departed Fredericia, Denmark on December 12 under tow by the AHTS Maersk Battler. Prior to departure both vessels had been emptied of lubricant oil and diesel oil, a spokesman for Maersk Supply Service said following the incident.
According to reports the Maersk Searcher sank first due to a leak approximately 60 nautical miles from the island of Sein. The Maersk Shipper remained afloat but sank some time later about 70nm from Sein. The vessels are estimated to be in water depths of 140 to 155 meters.
Copyright Ships & Ports Ltd. Permission to use quotations from this article is granted subject to appropriate credit given to www.shipsandports.com.ng as the source.