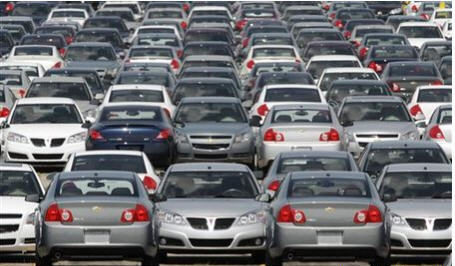 On December 2, 2016 the Federal government placed a ban on importation of vehicles through the land borders. The ban will take effect from January 1, 2017. Oluwatoyin Amao went to town to seek the reaction of Nigerians on what they think of the ban. 
The government has really lost it this time. This is because i once heard about a similar ban from previous administrations. They need to focus more on implementing policies that will affect the masses positively. Rather, than one that will turn the masses to smugglers to meet their end means.
Vincent Betiku
Lagos
I think it will help to stop smuggling. This is because vehicles imported through the seaport are seen and checked by the necessary port agencies. On the other hand, when vehicles are imported by land it might be difficult for them to really monitor, inspect the vehicles and to check the quality of the cars coming into the country. They might not go through the appropriate borders.
Ayodeji Ogbonnaiye
Lokoja, Kogi State
The ban of vehicle importation into Nigeria has two sides to it. It could play out negatively or positively but in the long run I believe it will be for the best. The reason is because companies in Nigeria that are into car production will buckle up and make better cars that will suit our roads and classy enough for our elite and classy Nigerians who won't want to go for just any car. Finally this will create and improve the economy drastically. When we don't have to deal with the issues of dollars and its unnecessary increase, then the economy of our nation will easily rise above the currency recession it is undergoing.
Ebere Otutubuike
Jos
I feel the federal government made the right decision because government will have full control of the activities that go on the land borders; money will be generated from borders which can in turn grow the economy.
Adenike Ajisebutu
Ipaja, Lagos
I think the reason why the government is taking such a stand is largely due to revenue loss on duties, when vehicles are brought in through the land borders. There is too much smuggling through that channel. The positive thing is that ports could spring back to life and employment opportunity in the maritime sector may improve. The bad thing is that on the long run, there might be hike in vehicle prize and transportation costs could also rise. Rather, let's wait and see the consequences of the ban, hopefully it will be positive.
Babatunde Bello
Kaduna
I am unsure this will bring more revenue for the government. This is because i reckon it will dwindle their revenue because people will resort to alternative sources like smuggling. I feel the government has no clue on what to do. Rather than ban, they should implement measures to monitor customs duties.
Sunmade Ajayi
Lagos
I feel it is a good thing. This is because it would help the government regulate the number of cars that comes into the country. Also, it would also encourage mechanical engineers to become innovative and start manufacturing too.
Shalom Ajiyana
Kaduna
I think it is a good government policy. The government is simply looking for ways to restore our independence. The policy makes us depend more on our country for things rather than boosting other countries revenue with taxes. Moreover, people have to pay to import and government should develop our ports to make this policy work.
Zainab Balogun
Ikeja, Lagos 
My view on this topic is that the ban on importation of vehicles should be encouraged. This is because it is obvious that every economic activity should be one that is not harmful both to the citizenry and the community it intends to serve. The subject matter tends to do exactly that. The manner vehicles are driven possess a great danger to all at stake. A lot of accidents have occurred during delivery of these vehicles. This causes a great number of casualties that will not remotely benefit from this import, as it were.
In economics terms, the resultant effect it has on our gross domestic product (GDP) is not a thing that can be quantified only in monetary terms. This is because of the expensive nature it comes with.
Joy Akingbuwa
Lagos
I sincerely do not support the ban on importation of vehicles through land borders. My reasons are: It is cheaper for every Nigerian to import through neighbouring countries than going through our own ports. This is because our ports that are known for having lots of irregularities and corrupt practices from Customs and government officials. The government will lose some income as a result of the ban. This is because they will still smuggle vehicle into the country anyway. Moreover, it would increase the government's source of revenue. Additionally, allowing importation through land borders will only improve business relationship between Nigeria and its immediate neighbours; especially now that the country needs them in the fight against insurgency. It will improve relations with them on many fronts. Instead of total ban on importation of vehicles from land borders, the government should put in place standards and measures to counter the importation of substandard vehicles into the country thereby promoting business harmony but maintaining the standard. The government should also make importation and clearance in our ports free from corruption by officials (Customs), less cumbersome and time consuming to attract interests of the citizens in using the ports and gradually discourage or serve as alternative to land border importation.
Bimbo Adeoye
Lagos
Government should have considered banning food items and some other commodities that Nigeria can be produced locally instead of cars. The fact still remains that we can't produce these cars in Nigeria. The cars that are assembled here in Nigeria are very expensive and some Nigerians can't afford it.  An average income earner could buy an imported car for personal use which could last for five years. Importation of these cars could generate more revenue for Nigeria by increasing the tariff of such item.
Sadiq Olaiwola
Ilorin
Yes, I support the importation ban of vehicles by the Federal Government through the land borders for the following reasons:
Firstly, the ban can be used to reduce the issue of car smuggling into Nigeria. This is because the ban is limited to just land borders. Furthermore, the ban does not apply to importation of cars from ports because there are no prominent smuggling issues when importing vehicles via ports. Secondly, without the ban the federal government will continue to lose revenue from vehicles imported into Nigeria. Furthermore, if the ban ceases to stay in effect the federal government will continue to lose a lot of money because of lost revenue such as taxes and tariffs. Thirdly, the ban should stay in effect because it prevents the importation of sub-standard vehicles into Nigeria from land borders. Fourthly, the ban helps to curb crimes such as human trafficking and drug smuggling into Nigeria. Furthermore, research shows that the vehicles imported from land borders are used to bring in banned items like illegal drugs and other contraband and lastly, the ban allows proper monitoring of imported vehicles and items. This is because vehicles can only be imported via ports not through land borders. Unlike land borders, the vehicles imported via ports are subject to monitoring and inspections.
Toyin Abejide
Kofi State
Whenever people argue about the placement of embargo on the vehicle of used and new vehicles through the country's land borders, I simply hold my tongue and smile to myself. It is remarkable to think that importation of vehicles through land is detrimental. This includes hindrance to government revenue, a denial of the development of infant auto plants and low patronage for locally assembled vehicles. However, government needs to understand that there will be an increase in smuggling if there's no effective system in place at the land borders. The government should ensure a proper system is in place like execution of proposed LAKAJI rail transport project. LAKAJI is an acronym of Lagos, Kano and Jibiya. The project aims at enhancing business development services; it is a rail transport project where goods are loaded when they arrive at the port on the rail. The goods are then conveyed to various service stations along Lagos to Jibayi which covers all the six geopolitical zones and it also gives the dealers a privilege to track and predict precise time and days it will take their goods to get final destination.
Ibrahim Jimoh
Kwara State 
Copyright Ships & Ports Ltd. Permission to use quotations from this article is granted subject to appropriate credit given to www.shipsandports.com.ng as the source.