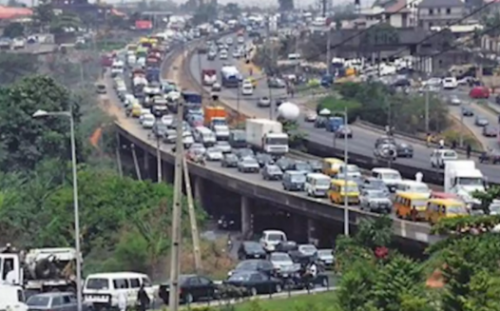 Vehicles, commuters and other road users were on Wednesday morning stuck on the long bridge linking Warewa with OPIC on the Lagos-Ibadan Expressway following the spillage of diesel by a fallen tanker.
The incident occurred toward the end of the Lagos-inbound route of the long bridge leading to long queues of vehicles coming into Lagos from other parts of the country.
Several road users who were travelling from Mowe, Ibafo, Asese, Magboro Arepo to resume work in Lagos lamented the condition they found themselves at a time they should have been at work.
Also, those travelling from other parts of the country to Lagos and were caught up in the traffic web expressed their displeasure about the early morning accident on the long bridge.
Some officials of the Federal Road Safety Corps (FRSC) and other uniformed men were around at the scene to control traffic, redirecting vehicles from the normal six to less sensitive spots to avert further accidents.